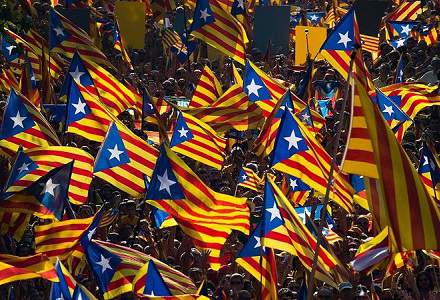 In just under two weeks Catalans will go to the polls to decide whether to sever political ties from Spain and form an independent republic.
Plenty of publications fear this will be a disaster for the area, and could see unemployment and GDP affected in a negative manner. However, bookies and bettors alike are confident locals will vote for independence regardless. Two bookmakers on Oddschecker have independence priced up at 1/10, implying a 91% chance of independence.
Based on the odds, the likelihood of Catalonia separating itself from Spain appears to have increased in recent weeks, just ten days ago the odds of this scenario were as big as 2/5, implying a 71% chance.
A massive 71% of bets on the market have been on Independence, a considerably greater vote share compared to a Leave vote in Brexit a month prior to that referendum (54%). One bullish punter has wagered just under a £1000 on Yes to Independence at odds of 1/7.
Oddschecker spokesman, George Elek "The Catalan Independence Referendum has sparked one of the most controversial debates on European politics, and the betting suggests that it is only just getting going. A huge market move in favour of leave suggests that the natives will vote to break free of Spain, a decision that's legitimacy will come under certain question. Whether they do leave or not, those punters who have backed yes will be paid out should the vote be for independence."