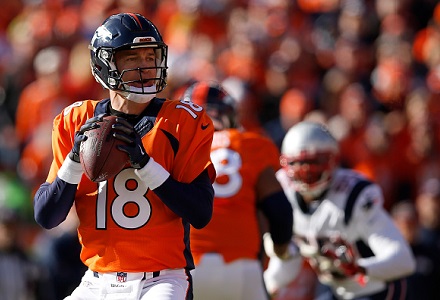 Lindy's Sports UK Editor Simon Milham previews Superbowl 50 between Carolina and Denver.
Lindy's Sports UK Editor and MyClubBetting.com correspondent Simon Milham ties down the trends, stares at the stats and offers some cool, calculated analysis for Sunday's Super Bowl 50, which takes place at Levi's Stadium in Santa Clara, California, home of the San Francisco 49ers.
The weight of money verses the weight of public sentiment. Prolific offense versus staunch defense. That is the essence of Super Bowl 50.
It is said that offenses win games, defences win championships. Nice cliché, if a little over-used. That was certainly the case when the Denver Broncos' high-powered attack was shut down completely by the Seattle Seahawks in the big game two years ago. The Broncos have since morphed into a rock-solid defensive unit, one that held Tom Brady and the New England Patriots to 18 points in the AFC Championship game.
There was a time, not so long ago, when the Denver Broncos' attack lived and died on the arm of Peyton Manning, a fading legend of the NFL, who has a chance to go out on a high. The Broncos haven't won a Super Bowl since 1998, when their last legendary quarterback, John Elway, rode out into the sunset on just such a high.
Manning, who suffered through the worst season of his career and dealt with a tear in the plantar fascia near the heel of his left foot that cost him seven starts, is two months shy of his 40th birthday. The Sheriff is going to Super Bowl 50 with the chance to become the first starting QB to win Lombardi Trophies for two different franchises. No question, this is likely to be is last rodeo.
The weight of public sentiment will be behind him as he bids to earn a second ring. Manning's arm strength will be a problem against a fast, zone defense. The ball has not been coming out with much zip and while they did defeat the defending champion New England twice this season, they did it on the back of their marauding defense.
Standing in Manning's way are the Carolina Panthers, who made the most of a 28th-ranked schedule, losing just once. Riding the best offensive line in football, they employed a ground-and-pound running game, with Jonathan Stewart carrying the load, and played to QB Cam Newton's scrambling, strong-armed strengths, despite boasting a second-tier receiving group.
The former Auburn Tigers passer is just the fourth QB to lead his team to the Super Bowl after putting up 500 regular season points. The other three lost. The Panthers led the league with 526 carries this season and Jonathan Stewart is a powerful back who gains tough yards. Denver rank next-to-last in the NFL in short-yardage run defense. So expect a lot of short runs which set up Newton play-action passes.
This Super Bowl has seen one of the biggest line moves in the title game. Carolina opened at 3.5- points jollies and they are expected to go off as 6.5-point favourites. The favourite has won 32 of the previous 49 Super Bowls.
The Points Total line is set at 44.5. Incidentally, the last team to be a 6.5-favourite with the line set at 44.5 points was in 1993, when the favoured Dallas Cowboys defeated the Buffalo Bills 52-17. In the last 10 Super Bowls where the Points Total line has been set at 44.5 points or less, the total has been eclipsed on eight occasions.
If Carolina justify those odds, Newton is almost certainly going to be the MVP and the 8/11 odds offered are fair. The 11/10 for Newton to take in a touchdown himself are skinny for a reason. Carolina boasts the top-ranked offense, while Denver's defense led the league for the first time in franchise history. The NFL's top-ranked offense has come to the Super Bowl 16 times. It is 8-8 in those games. The top-ranked defense has come to the Super Bowl 15 times. It's 11-4 in those games. The Panthers have not faced such a marauding defense and it is worth noting that since the NFL started recording sacks in 1982, there have been 13 teams with 50-plus sacks that have reached the Super Bowl. The Broncos are the 14th. The previous 13 went 9-4 – and three of the losses came in Super Bowls when both teams brought 50-sack defenses into the game.
Click here for all the best Superbowl 50 odds
Denver's run defense allowed just 81.4 yards per game and led a unit that topped the NFL in the regular season, allowing just 283.1 yards per game and just 296 total points (averaging 18.5 points per game). They conceded more than 30 points in a game just once this season. The Broncos held two opponents without an offensive touchdown, four other opponents to a single TD and six more foes to two offensive touchdowns. This is a defense that gives up points grudgingly. The Carolina offense scored points at will, becoming only the 19th team in NFL history to score 500 points in a season. They slapped 31 points on Seattle, the NFL's No. 2-ranked defense, in the NFC semi-finals, then blasted Arizona and the NFL's fifth-ranked defense for 49 points in the NFC title game. Offensive co-ordinator Mike Shula has cooked up some remarkable game-plans with groceries like receivers Ted Ginn and Jerricho Cotchery that are straight off the bargain shelf.
Carolina's offensive line makes everything happen. Newton is allowed all kinds of time to find his receivers, and he keeps plays alive with his legs. He has 10 rushing TDs this season and such is his confidence, power and reach, he often takes charge, going around or over the top of a defense when near the goal-line. Newton is 11/10 to score a TD at any time and if the Panthers win, he will doubtless be on the scoresheet. Yet the knock on Newton is two-fold. He can often force balls into double coverage and does have a nasty habit of holding on to the ball too long. Denver's pass rush will get to him. The question is, how much? Will it be enough to keep them on the sidelines and get them out of their rhythm?
While edge rushers Von Miller, Derek Wolfe and Demarcus Ware get the plaudits up front, Denver's secondary create plenty of coverage sacks. Miller, Ware and both cornerbacks Chris Harris and Aqib Talib were selected to the Pro Bowl.
Carolina may well roll if they get a fast start but if Denver's smothering defense can get them out of their rhythm – and there is plenty to think they might – taking Carolina to score fewer than 23.5 points might be the best bet of Super Bowl 50 at 10/11.
If Denver stymies Carolina, sacks will be a barometer to the MVP award and while offensive stars usually get the gong, the 25/1 on offer for Von Miller to be MVP is another fair bet. While Miller is the heartbeat of the Broncos' defense, Danny Trevathan led the team in run tackles with 77, 18 more than fellow inside linebacker Brandon Marshall. Given Carolina's run-heavy attack, Trevathan will have to have a big game if the Broncos are to pull off the victory and he is 250/1 to be the MVP. Arguably, he should be half the odds.
With a win, the Broncos would become the ninth team to win three Super Bowls. When the Broncos lose the Super Bowl, they lose big. They have been outscored 206-58 in their five Super Bowl losses.
Many are expecting them to lose big again, particularly when faced with such a potent attack. And that could happen.
Yet All-Pro Panthers' linebacker Thomas Davis broke his arm in the NFC Championship game. He has a metal plate and 12 screws holding together his right arm, where one bone broke in two. Still, he expects to play. The Panthers need Davis. Before he broke his arm, Davis was having perhaps his best season. He collected 105 tackles. His 5½ sacks were a career high. He made four interceptions and forced four fumbles. How effective will he be, because he has to make tackles, wrap up runners, fend off blockers? There is no question that he will be limited and the Broncos will target that weakness. Make no mistake, his limitations are a major negative for this Panthers defense who, over their last five games of the regular season and post-season, were outscored 45-28 in the fourth quarter. That number looks a lot better because they outscored Arizona 15-8 in the NFC Championship game. Panthers' Josh Norman is an excellent cornerback, primarily an off-coverage defender who plays outside in a zone scheme. Ordinarily, Carolina's speedy zone defense would give Manning fits, but Robert McClain, who plays on the opposite side, is a back-up and opponents have been able to target him on the perimeter. We expect the Broncos to deploy No.1 receiver Demaryius Thomas and align him on the outside, to the left of the offense, on a regular basis. Davis's injured wing means coverage may not be as staunch as they would wish.
No-one expected the Broncos to get past the Patriots twice. Everyone expects the Panthers' offense to roll. Yet they do have a soft underbelly.
Call us romantic, but given all Manning has had to overcome, a second ring for The Sheriff will arguably be the greatest NFL fairy-tale of all. Public sentiment versus weight of money, and sentiment rarely wins. Yet until otherwise stated, offenses win games. It is defense that win championships.
Carolina to score Under 23.5 points - 1pt @ 10/11