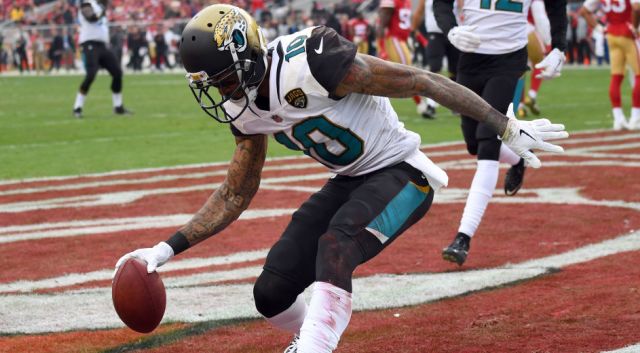 Sky Sports NFL's Main Man previews the last week of Football before the Playoffs…
Titans @ Jaguars – Sunday 21:25
Aloha guys, we're so close to the Playoffs but before the showcase arrives, we've got to find out who will make it. There are teams that have taken it down to the wire and we start with one of those: The Tennessee Titans.
Unfortunately, this side worries me. They seem to play down to the level of their opposition (if they are worse than them) and have issues finding their best game. You want to be playing your best football right now and the Titans aren't doing that. It hasn't helped that Marcus Mariota has just plateaued a little bit recently, putting up Passer Ratings of 67 last week against the Rams and 39 before that against the Cardinals.
The 49ers embarrassed the Jaguars last week as the Jimmy G show rolled on. Everyone bigged them up after clinching their Playoff spot but they got their wings clipped and will have a big point to prove on Sunday. The Titans are the favourites apparently, but I'm picking the Jags to break Tennessee hearts.
Jacksonville Jaguars - 1pt @ 31/20
Panthers @ Falcons – Sunday 21:25 – Sky Sports NFL
This game very much depends on how Ron Rivera puts out the Panthers. You can talk about winning this game to make momentum but as they can't improve their spot, you may see some different faces. You do not want to lose the likes of Cam Newton and Luke Kuechly this close to the Postseason.
Atlanta meanwhile have to win and are fighting for their lives. Their new stadium will be deafening and I think that they can capitalise on their home-field advantage by putting themselves in the Playoffs. They're like a cornered bear right now and there's a saying I know: A cornered bear is the nastiest to face!
Atlanta Falcons - 1pt @ 51/100