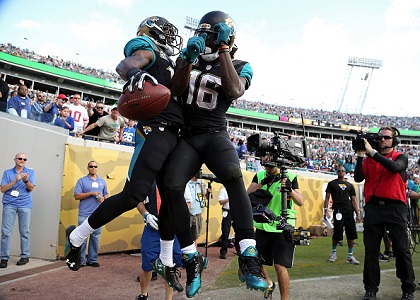 The Patriots are eyeing back-to-back Super Bowls; the Jags are looking to crash the party. BC Lions Special Teams Coach Reinebold breaks down the game.
Jaguars @ Patriots – Sunday 20:05 – Sky Sports
Well we have a dynasty and an underdog in the AFC Championship game. It's a classic tale, and you know that come kick-off, you'll have Patriots fans in one corner and fans of every other team in the other, that's just how it goes when the Pats are playing!
They've become the team that everyone wants to see get beat and it's thoroughly deserved – You only get that if you always win, which is what this team does best. You've got Tom Brady eyeing up yet another Super Bowl, and in the words of my good friend Josh Norman: "It's just not fair."
But the Jags aren't going to be scared going into Foxboro and they won't go down without an almighty fight. They were brilliant against the Steelers, to think that they could barely put up 10 against Buffalo and then go and shred Pittsburgh in their own back yard.
People are saying that Blake Bortles is going to let this team down and I think that is really unfair. Only four QBs in history have thrown for more yards in their first four seasons than Bortles. This is not a bad player we are talking about here, far from it.
But to beat New England, you have to do everything right. You have to earn every yard, every point. This will be a challenge for Bortles and the rest of the roster unlike any they have faced so far. So far this season they have shown that they have the calibre to beat New England – They run well, have a great defence, force turnovers and make few mistakes. But will it be enough?
They'll be confident but this is Foxboro, in late January, against TB12. I feel that the Jags are another year away from their full potential, and you get the sense that they may need a little more experience in these kind of situations.
When push comes to shove, I'm backing the Patriots, but it's going to be very close. One thing that could swing it is Rob Gronkowski. The Jags need to pin him down and quickly, otherwise his finesse and power could cause all kinds of pain.
Make sure you join us in the Sky Sports NFL studio on Sunday – I'll be there, make sure you are too!
Patriots to win by 1-6 pts - 1pt @ 7/2
Finalists: New England Patriots & Minnesota Vikings - 1pt @ 10/11