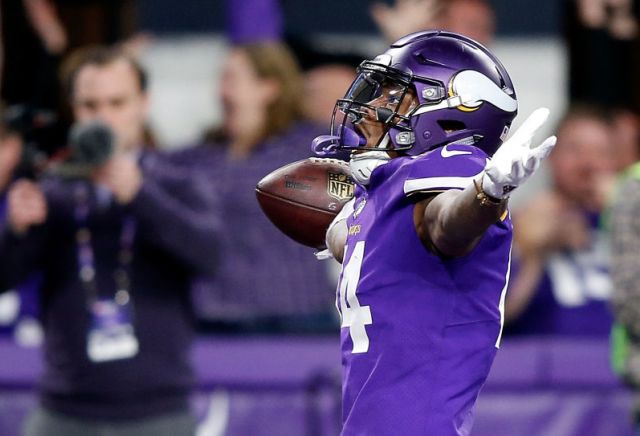 Which team will go one step away from winning their first ever Super Bowl? Oddschecker's NFL Ambassador breaks down Vikings @ Eagles.
Vikings @ Eagles – Sunday 23:40 – Sky Sports
Well guys, we're at Championship Sunday. And what a way we got there! The 'Miracle in Minneapolis' is something we will never forget and it's given the Vikings a chance to make history and be in their very own Super Bowl.
.@STEFONDIGGS FOR THE WIN!!!!!!!!! #NOvsMIN #NFLPlayoffs pic.twitter.com/UAoNJ2NJ97

— NFL (@NFL) January 15, 2018
The Eagles however will have something to say about that and it's gonna be one heck of a physical game. These two teams play the game the way it should be played and there will be no give up front. It feels like it's gonna come down to individual errors.
I would say that the Red Zone is where this game will be won and lost – Who can make three points and who can get all seven? The team that prevails will be the one that makes the most of their chances.
When you look at the receiving options for each team, there's a wealth of talent. Stefon Diggs, Adam Thielen, Nelson Agholor and Alshon Jeffrey all have insane skills, but will have to cope not only with the pressure of a Championship game, but Secondary units that will press and play aggressive. There's gonna be intriguing match ups all across the board and the QBs will be looking constantly for a chink in each other's armour.
Nick Foles and Case Keenum, who expected these two to be duking it out for a Super Bowl spot at the start of the season? But here they are, and both can become a franchise legend if they make plays on Sunday. You have to feel that with the Vikings' storyline, and the progression that Keenum has showed throughout the season, that the momentum could well be with him and his team.
The Vikings will no doubt have one eye on the Super Bowl story and cannot lose sight of this game. However, I genuinely think that if they beat the Eagles, they could well win it all. And I think they will go to Philly and get the job done.
And I hope they do for the sake of Millie Wall. She's 99-years old and been a Vikings fan all her life, and now she is an internet sensation. She was a guest of honour for the Vikings' win last Sunday (her first ever Playoff game). Not only that, but she was given tickets to the Super Bowl too. What a story. What a fan!
What a finish. Grandma Millie told @nflcommish she wanted to go to the @SuperBowl - @Vikings just got one step closer and Millie's got two #SB52 tickets! pic.twitter.com/W9d24KoNix

— Natalie Ravitz (@NFLNatalie) January 15, 2018
Vikings - 2pts @ 4/6
Finalists: New England Patriots & Minnesota Vikings - 1pt @ 10/11