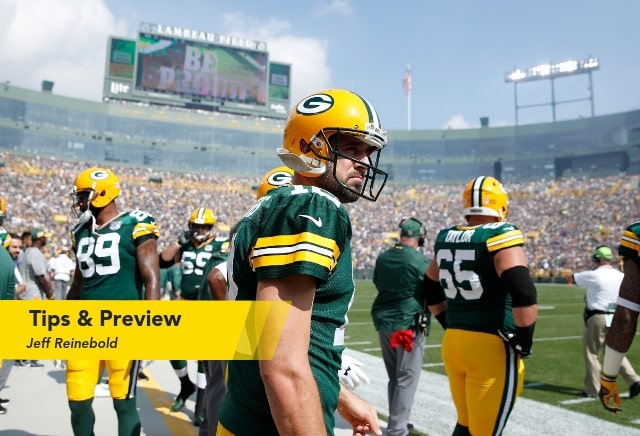 Our NFL expert went two from three for his picks last week.
What's up everyone, we've got Week 7 on the horizon and I can't wait to get stuck into some more NFL action.
There's some great matches that I'll break down in just a bit but first, I just wanted to heap some praise on one team and one player in particular.
Firstly, is there anyone that is going to be able to stop the Rams? It's getting to the point now where they're just flat out scary, and short of a disease epidemic, they are winning their division at a canter. Who would want them in the post-season?
Secondly, what more can you say about Aaron Rodgers. Another miracle last-minute drive down the field to win the game for the Packers Monday night, and the impressive part is just how easy he makes it look.
I spoke the other week about how he will bring the levels of his fellow players up and we saw evidence of that towards the end of the game. He is as hot as he has ever been and has half a chance at walking on water if he wanted to right now!
Anyways, let's get on to Week 7 and we'll start with Thursday night. The Broncos are in action and they are a team that is very much at a crossroads. They have the ability to be a play-off team but they continue to have their struggles.
Case Keenum has looked okay on occasion but has also been booed by his own fans. That's not ever good to hear, and it might be a good thing that the Broncos are out of Denver this week, as they go to a Cardinals team that are in a whole heap of trouble themselves.
This is a game where the Broncos can take a step back and look to work through some of their issues. If they don't right the ship soon, we could be looking at some coaching changes.
It would be a shame, as I have worked with Vance Joseph before and have a lot of time for him, but if you're a Head Coach in the NFL and you're not producing results, your seat gets real hot real quick.
I think though that 'Big D' can get back on track this week.
Broncos to win - 1pt @ 17/20
Another game that interests me (and to be honest, any time they play they interest me) is the Rams going up to San Fran to play the 49ers.
It was a heartbreaker for CJ Beathard and co. as they put so much into the Green Bay contest and came up just short – You could see how much they were affected at the end of the game. They now have to deal with a short week and an emotional loss, by dealing with the 'Greatest Show On Turf 2.0' coming to their backyard. Good luck with that!
You just have to fancy the Rams strongly, they can't put a foot wrong at the moment and have led at half-time and full-time in four of their last five. I'd expect the same to happen on Sunday.
Rams HT/FT - 1pt @ 8/13
Finally, here's one that could be a real trap game – The Chicago Bears hosting the New England Patriots.
The Bears should have beat Miami last Sunday, but they didn't play well. Despite that, they still had the chance to win in OT, but couldn't get the job done.
Now though they go back home, and Soldier Field is always a tough place to play. The Bears need to win a big game like this one, firstly to keep the pressure on the rest of the NFC North and secondly, to get their swagger back, something that beating the Patriots will always give you.
Oh, and it would also make my pre-season prediction that the Bears will make the Play-offs look pretty good too!
I think that Chicago's defence is good enough to get the job done. The question is, will Mitch Trubisky and the rest of the offence be able to do what Kansas City did last week, and heap some points on Tom Brady's team?
Don't forget that Matt Nagy used to be the Offensive Coordinator at Kansas City, so I'm sure him and Andy Reid will be talking in the run up to this one about tactics and plans. I think the Bears have a better defence than KC, so it's a huge opportunity for them to make a huge statement in front of their own fans.
Bears - 1pt @ 6/4
Jeff Reinebold is the current BC Lions Special Teams Coach and a long time Sky Sports pundit. He will be Oddschecker's NFL Ambassador throughout the 2018 season.