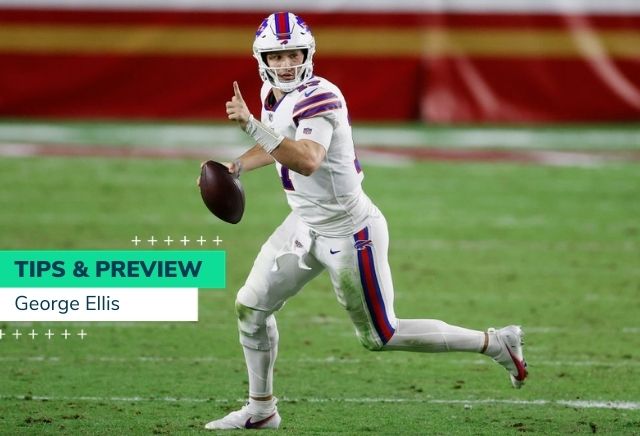 Expert George Ellis has cast his eye over this NFL action, selecting a whole host of betting tips.
Los Angeles Rams at Green Bay Packers - Saturday 21:35 GMT
Betting Tip: Rams to Win by a Point Margin of 1-5 Best Odds 11/2
The LA Rams may have only secured a 10-6 record during the regular season but they pulled off one of the surprises of the weekend, knocking out NFC West rivals Seattle Seahawks, who finished the regular season with a 12-4 record and but lost the game to the Rams 30-20. Not many people believed that the Rams, who were playing their backup quarterback John Wolford would win the game, let alone when he was forced out of the game early on and forced Head Coach Sean McVay to gamble with the recovering thumb on Jared Goff's hand. However, this wouldn't be the biggest injury scare the Rams had during the game; the one man the LA defence can't live without is star defensive tackle Aaron Donald, who acquired the 2nd most sacks in the NFL regular season of 13.5 but is an important cog in that LA Rams defence. He picked up a rib injury over the weekend and is being assessed "Day by Day" according to McVay, but it hard to imagine the defence back not playing. With the Rams carrying these injuries they are up for a tough cold game ahead at Lambeau Field but still have enough talent throughout the roaster to make this a competitive game.
Rams to win by a point margin of 1-5 - 1pt @ 5/1
Betting Tip: Total Green Bay Packers Point over 27.5 best odds 5/4
The Green Bay Packers are coming off a bye week, due to securing the number 1 seed in the NFC, this means they haven't sustained any injuries before playing the Rams. The one week's rest was an important reason for the Packers to clinch the number 1 seed but what is more important is that the opposition teams now must go to Lambeau Field to win, during winter months when snow expected. This gives the game another dimension to be considered because not only did they destroy the Tennessee Titans 40-14 during their last home/snow game, but they have a man in Aaron Rodgers who understands what it takes to win these sorts of games.
Rodgers is coming back of an MVP season, with 48 touchdowns and only 5 interceptions in the regular season and a very accomplished passer rating of 121.5.
No quarterback has scored more than 48 touchdowns during the regular season and not won the Superbowl, however they are coming up against a wounded animal in the LA Rams, which makes the contest more exciting.
Total Green Bay Packers Points to be over 27.5 - 3pts @ 5/4
Baltimore Ravens at Buffalo Bills - Sunday 01:15 GMT
Betting Tip: Stefon Diggs 1st touchdown scorer for the Bills best odds 9/2
Sunday morning's AFC match between the Baltimore Ravens at Buffalo Bills is promised to be one of the most exciting match ups of the weekend.
Bills are coming of a narrow win having beaten a stubborn Colts team 27-24, this largely thanks to 3rd year quarterback Josh Allen. Allen has progressed tremendously from his 2nd year, putting up eye-watering numbers for a man who is so young to the game with 37 touchdowns, only 10 interceptions and a respectable passer rating of 107.2, during the regular season. However, like Batman has Robin, Allen has Stefon Diggs, who is the quarterback's favourite target since his move to the Bills from the Vikings. Diggs' stats speak for themselves with 127 receptions, 1,535 yards in the regular season and offers this young team an understanding of these playoff games whilst only being 27 years old himself.
Stefon Diggs 1st Touchdown scorer for the Bils - 2pts @ 9/2
Baltimore Ravens at Buffalo Bills
Betting Tip: Baltimore Ravens winning margin 6-10 best odds 11/2
The Baltimore Ravens came into the season with high expectations and these were right to be put towards them. The Ravens' roaster is impressive on both ends of the floor, its defence held leading rusher and Tennessee Titians running back Dereck Henry to only 40 yards during their 20-13 playoff win last week. However, it is hard to not talk about their dual threat quarterback Lamar Jackson. Jackson is the definition of the modern-day quarterback. He may have only thrown for 179 yards and no touch down last week, but he also rushed for a team leading 136 yards and scored a rushing touchdown.
Baltimore Ravens winning margin 6-10 best odds 11/2 - 3pts @ 11/2
Cleveland Browns at Kansas City Chiefs - Sunday 20:05 GMT
Betting Tip:Cleveland Browns winning margin 1-5 best odds 13/2
This is a game which no one expected to happen. The reigning champions, Kansas City Chiefs versing a Browns Franchise whose last playoff appearance was in 2002, let alone for their last playoff win, which was in 1994! However, this is not a Browns team of old; they have a new head coach in Kevin Stefanski, who has not only changed the culture around the team but more importantly released the talent of his team on both ends of the pitch. Like many teams coming into these playoffs Browns have a 3rd year quarterback in Baker Mayfield who has improved and more pointedly has stopped turning over the ball. Mayfield had only 8 interceptions over the regular season and hasn't been intercepted in his last four games, combining this with what some may argue is the best 1-2 punch running backs combination in the league with Nick Chubb and Kareem Hunt, who went for a combined 1,908 yards during the regular season and man handled Pittsburgh Steelers' defence backs in their 48-37 win over their divisional rivals. If you fancy this fairy tale to continue its worth betting on a narrow win for the Browns as Patrick Mahomes of the Chiefs has never lost a playoff game by more than 7 points.
Cleveland Browns winning margin 1-5 - 1pt @ 13/2
Tampa Bay Buccaneers at New Orleans Saints - Sunday 11:40 GMT
Betting Tip: First Touchdown Scorer for the Bucs Mike Evans best odds 9/2
Was anyone else really surprised that Tom Brady got his new team into the playoffs? Granted they played a Washington Team who aren't the best team left in these playoffs but they are building something, which some could easily fall over but the Bucs didn't. Now Tom Brady and his Bucs are coming up against divisional rivals in the New Orleans Saints, who have already beaten them twice this year in the regular playoffs. The Bucs however may have peaked at the right time and this coincides with Tom Brady's performances getting better. Brady has had his best statistical year after Thanksgiving ever and you have a feeling, he has taken over that New England mentality of getting the job done. In this star-studded roaster, the emergence of once exiled man Antonio Brown could play an important part to play in this game and who can forget about Brady's favourite target of 109, Mike Evans the man was built for stages like this.
First Touchdown Scorer for the Bucs Mike Evans - 1pt @ 9/2
Betting Tip:First Touchdown Scorer for the Saints Alvin Kamara best odds 9/4
The Saints are coming off a good year themselves with a 12-4 season and beating the Bucs to NFC South Division title. A lot of talk around the league is that it is Drew Brees' final year and the Saints will want to repay him for his service by winning one more Superbowl for their QB. Their defence is mean and astute with Trey Hendrickson leading the charge with 13.5 sacks tied 2nd in the league. It's hard not to see Alvin Kamara not playing a part in the Saint's offence efforts, not only is he the team's leading running back with 932 yards, 16 touch downs, he also leads the team with 756 receiving yards and joint second 5 touch downs from receiving positions, he truly is a dual threat.
These two divisional rivals will play a thriller! It should be closer than the last two match ups and it'll be an intriguing watch.
First Touchdown Scorer for the Saints Alvin Kamara - 2pts @ 9/4