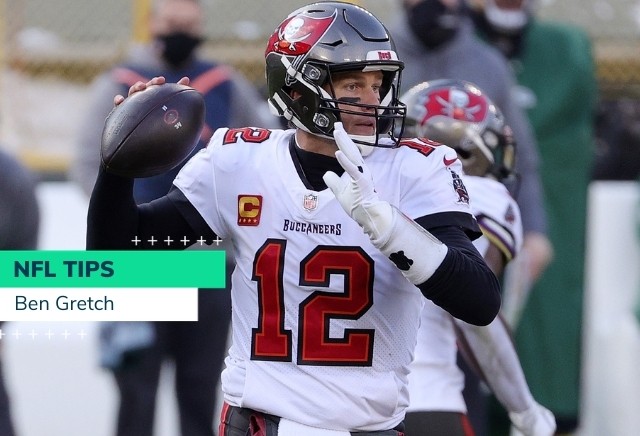 It's time for the big one, Ben Gretch breaks down the best prop bets for the Kansas City Chiefs vs. Tampa Bay Buccaneers in Super Bowl LV
Tampa Bay Buccaneers vs Kansas City Chiefs Prop Picks
It's impossible not to love the Super Bowl prop market. It feels like you can bet on almost anything, and while I'll shy away from the coin flip or Gatorade shower markets here, there are so many options you can find unique ways to play almost any lean you have in the game. Here are some of my favorite props.
Chiefs to win comfortably but not huge
Earlier this week, I wrote up a full-game preview including my spread pick, which breaks down all the reasons I like the Chiefs. But Kansas City has been willing to sit on leads a bit this year, controlling the game but not necessarily blowing teams out. Meanwhile, the Bucs are likely to get very aggressive with their pass-first tendencies if they trail by a substantial margin.
In the first matchup between these teams, the Chiefs led 27-10 through three quarters, but the Bucs scored touchdowns on each of their fourth quarter drives to make the final score look a lot closer at 27-24. That type of outcome was fairly common for the Chiefs this year, and it wouldn't be surprising to see Tampa score late in a game the Chiefs otherwise control. Conversely, if it's a tighter contest into the fourth quarter, a late Chiefs touchdown could push them to the key numbers 7 or 10.
Winning Margin — Kansas City Chiefs 7 to 12 (best price 11/2)
Can a non-QB win MVP?
The MVP market is always fun, but this year seems pretty straightforward and offers an easy option for how to play it. Eight of the last 11 Super Bowl MVPs have been quarterbacks, which stretches back to before the league's major passing revolution. The three other winners in that span were a pair of defensive players and one wide receiver, and the quarterback wasn't integral in any of those games..
In Seattle's dismantling of Denver, Russell Wilson threw his first of two touchdowns late in the third quarter with the Seahawks already up 29-0. The two other times a non-QB won — the Broncos' win with late-stage Peyton Manning and the Patriots' 13-3 win over the Rams two years ago — the winning quarterback didn't throw a touchdown at all.
In other words, if the winning quarterback has a solid game, he's the heavy favorite. And in this particular matchup, we have two of the biggest faces of the league at quarterback on either side, with both teams featuring a pass-heavy approach in a game with a massive total that makes it hard to imagine either side winning without their quarterback notching at least a pair of touchdowns along the way. If the Bucs win, Tom Brady will get deference in what might be his last Super Bowl. Patrick Mahomes won the Super Bowl MVP last year so maybe he gets knocked with voter fatigue, but he's likely to have been a key part of any victory. It's not sexy to take a bet with a ton of juice, but DraftKings is offering a reasonable number to lock in both of them.
Position of MVP — Quarterback (best price 2-1)
The fun longshot
Five times this season, Tom Brady has gotten through a game without taking a sack. And five times this season, Patrick Mahomes has as well. These two quarterbacks both had sack rates in the top five of 36 qualifying passers, and while they are likely to drop back plenty, you can get 40/1 over at FanDuel that there won't be a sack in this game.
Kansas City knows they are down Fisher and will be gameplanning ways to get the ball out quickly to protect Mahomes. The Bucs do a pretty great job of protecting Brady, and Kansas City was a middling 18th in adjusted sack rate as a defense this regular season. The last time these teams met, they combined for three sacks for a total of only 9 yards lost, which is to say they weren't all that far off from being recorded as rush attempts. The odds on this should probably be half of what they are.
Player to Record First Sack — No Sack (best price 8-11)
Super Bowl Props Expert Picks
Winning Margin — Kansas City Chiefs 7 to 12 (best price 11/2)
Position of MVP — Quarterback (best price 2-1)
Player to Record First Sack — No Sack @ (best price 8-11)