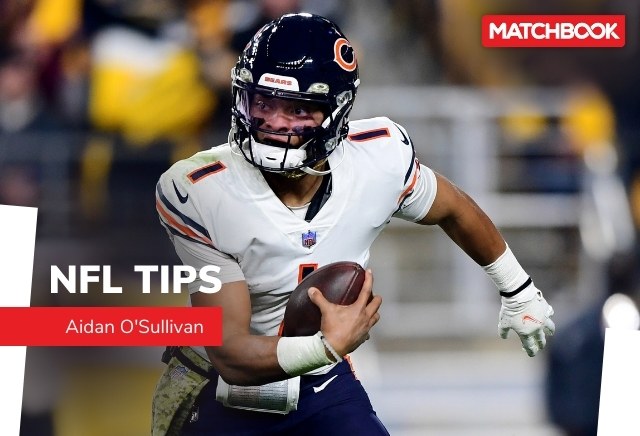 oddschecker and Matchbook bring you week 11 predictions for the NFL from expert NFL tipster Aidan O'Sullivan.
Sunday 18:00
Two winners from three selections last week, with a scoreless opening quarter in LA killing our shot at the over in the Vikings vs Chargers.
A trappy looking Week 11 lies ahead, but I think there are a few value bets to be had in three road teams facing VERY average Quarterbacks!
Chicago Bears vs Baltimore Ravens
Betting Tip: Baltimore Ravens -4.5
The first of the Quarterbacks that I want to oppose is the Chicago Bears' most recent first-round pick, Justin Fields. Yes, the former Ohio State dual option threat has looked decent in previous weeks, but I have a feeling this is more of a smoke and mirrors kind of thing.
The Ravens Defensive Coordinator Wink Martindale is known to dial up some pretty exotic blitzes that can bewilder the best of QBs. Though the sample size is small, Fields and this Bears offense struggles against an aggressive Defense.
Baltimore were oh so disappointing last time out in Miami but with an extra few days to prepare for this one against a bang average Bears team; I expect them to win handily in Chicago on Sunday night.
A fairer line here for me would be the Ravens -7.
18:00 Sunday
Carolina Panthers vs Washington
Betting Tip: Washington +3.5
So let's recap:
Washington beat the reigning champion Tampa Bay Buccaneers quite comfortably last weekend, 29-19.
Carolina bounced the Cardinals (who were minus QB Kyler Murray) 34-10 in Arizona.
The market has reacted one way here, and that's to rate the Panthers significantly higher than Washington in this one.
The look-ahead line for this game was Carolina -1.5/2.0, but with a 24-point win under their belt, they've gained a further market rating of 1.5 points.
One time 'Superman' Cam Newton returns at QB, but this is not the 2015 dual-threat version of Newton. The current version is an average at best playmaker, if even that, so I'm most happy to take Washington over a field goal here.
Even a 3 point Panthers win gets us the W here, and with a low total forecast, it's an even more advantageous number to play.
18:00 Sunday
New York Jets vs Miami Dolphins
Betting Tip: Dolphins -3.0
As a die-hard Jets fan, it pains me to say this, but the Jets are the worst team in the league right now, and I include the Houston Texans when making that statement.
Joe Flacco gets the start at QB for Robert Saleh's group on Sunday, but I'm not making this much of an upgrade on Mike White, especially against a Defense that tends to feast on the poorer Offenses in this league.
Tua Tagovailoa has largely been a disappointment since he was drafted fifth overall last year, but there have been some fleeting signs that improvement could be on the way in recent weeks. This Jets defense is absolutely brutal right now, so truth be told, even an average day for Tua will still get the Fins to about 20-24 points.
The Dolphins have only won a paltry three games this year, but if last week's win over the Ravens is good evidence that this team very much has not quit on Head Coach Brian Flores.
I'd have this line closer to -5.5 / 6.0, so there's plenty of value on the -3.0 currently on offer at Matchbook.