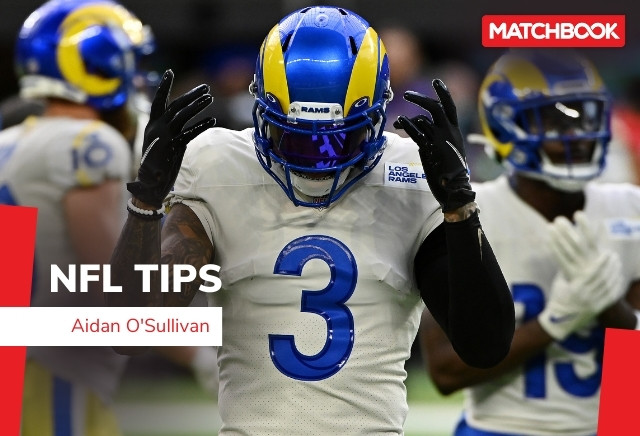 oddschecker and Matchbook bring you Divisional Round predictions for the NFL from expert NFL tipster Aidan O'Sullivan.
20:00 Sunday
And then there were eight! Divisional Weekend is upon us, and there are four cracking games ahead kicking off in Tennesee on Saturday night.
I've decided to keep my powder dry until Sunday night this week, however, as I believe there's an edge to be had in the Rams vs Bucs game.
Las Angeles Rams +2.5 (2.04)
Let's face it - Backing against Tom Brady in the playoffs is not going to make one rich in the short, medium or long term! However, this bet is less of opposing TB12 and more of finding the matchup edges in some other key areas.
The Rams Offense vs the Bucs Defense is a potential mismatch favouring Los Angeles.
Tampa Bay's Defense has put up top-10 efficiency numbers this season, but buyer beware as this is not the same unit that won it all last year. Statistically, they've also faced the easiest schedule in 2022. Furthermore, they've only faced three good passing attacks all season in the Cowboys, Bills and Rams (Week 3 - Lost 24-34).
There's no denying that Rams QB Matt Stafford has had some average at best performances down the regular-season stretch but where he excels is against a blitz-heavy defense. Step forward Todd Bowles (Bucs Defensive coordinator) who calls the highest blitz rate (40.8%) in the league. Bowles does this as the Bucs D-Line struggle to get pressure without help from the rest of the defense but also because this is Bowles MO in general at all of his coaching stops.
If Bowles does indeed go blitz-heavy, Stafford and this Rams offense with playcalling tyro Sean McVay may just torch them.
The Bucs defense was able to hold up against a 'deer in the headlights' type performance from Eagles QB Jalen Hurts last weekend, but this is a significant step up with the likes of Cooper Kuup and Odell Beckham Jnr stretching the field for Stafford.
The Bucs are also without some key weapons offensively, with Chris Godwin and Antonio Brown both gone for the season. Yes, they've managed to get by the last couple of weeks, but this Rams defense is a big step up on the Eagles, Panthers and Jets units.
The injury status of Bucs RT Tristan Wirfs is very much worth monitoring in the lead up to this one. Wirfs is a massive cog in protecting Tom Brady's openside, and without him, the Rams defense could cook here in getting pressure on TB12.
You could be a bit greedier and take the Bucs on the Moneyline (2.3 at Matchbook), but I'm more than happy to take the 2.5 point start with the Rams here at an odds-against price of 2.04.
Rams +2.5 - 1pt @ 1/1