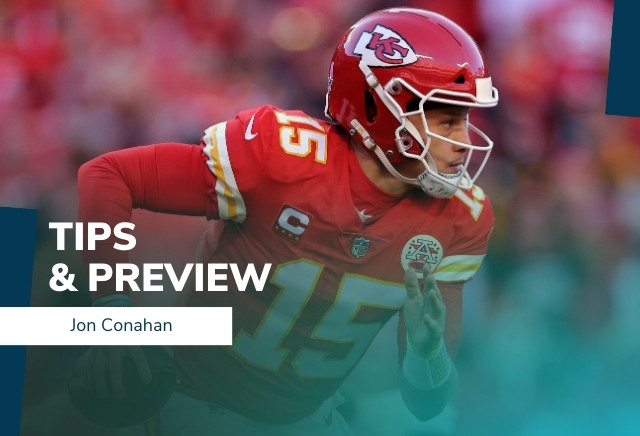 NFL expert Jon Conahan shares his predictions and betting tips for Kansas City Chiefs vs Cincinnati Bengals in the AFC Championship game.
23:30 Sunday
The Kansas City Chiefs will take on the Cincinnati Bengals in the AFC Championship. Both teams have played exceptionally this season and it has been suggested whoever wins this game will cruise against the NFC opponent in the Super Bowl in two weeks' time.
Mahomes has been the best quarterback in football, but Joe Burrow has also been regarded as one of the top five best in the league. If either quarterback isn't on their game, it could be why they don't advance to the Super Bowl.
Mahomes suffered a high ankle sprain in the Chiefs' divisional-round win against the Jaguars and this could affect the dynamic quarterback, when he comes out of the pocket.
Burrow has beaten Mahomes the last three times these teams have met and will feel confident that his team can make it to back-to-back finals when the two sides meet on Sunday night.
Both offenses have been as high-powered as they typically are, one-stop could be the deciding factor in this contest.
Cincinnati has been in this position and will look to find a way to beat Mahomes again. The past few months for the Bengals have been nothing but dominant football. While many seem to be doubting them earlier in the season, this team is a legitimate Super Bowl contender once again.
| Winner | Best Price | Worst Price |
| --- | --- | --- |
| Kansas City Chiefs | 8/9 | 5/6 |
| Cincinnati Bengals | 13/12 | 20/21 |
Chiefs vs Bengals Predictions & Betting Tips
Betting Tip: Cincinnati Bengals to win
The Kansas City Chiefs have a bit to worry about after Mahomes went down in the Division Round against the Jacksonville Jaguars, writes oddschecker NFL expert Jon Conahan.
It's been reported that Mahomes has a high ankle sprain and while that wasn't the worst possible news, any injury could come back to be vital.
While I think this could make it tougher for the Chiefs to win the game, Mahomes is the definition of a competitor and will do anything he needs to make sure he's close to full strength in this one. If he comes out and can continue doing what he's done throughout the entire season, the Chiefs have an incredible chance of winning this game.
There are clearly some worries here about the injuries and that could cause people to not want to back the Chiefs. Just remember that Mahomes is the best player in football and even with an injury, he's still going to figure out a way to do his thing.
Even if Mahomes is fully healthy, the Bengals still have a great chance of winning this game. Burrow has proven that he's a top three to five quarterback in the NFL and that's been evident throughout the past few years. He doesn't care how good Mahomes is because he knows he can beat him.
Cincinnati manhandled Buffalo, which many regarded as the best team in football. They were nearly a touchdown underdog and still found a way to go into Buffalo and beat them in a snowstorm.
I think we see some line movement to either side throughout the week and while it's tough to go against Mahomes, I'm backing the Bengals here. Joe Burrow has simply been too good in the playoffs and I think he finds a way to get the job done.