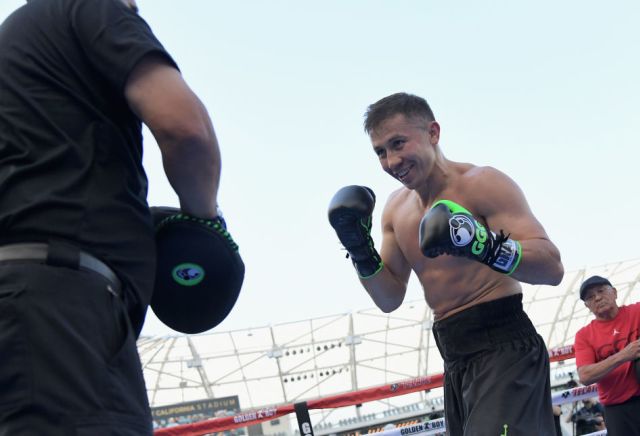 This weekend sees the rematch of the biggest fight in world boxing as Saul "Canelo" Alvarez and Gennady "GGG" Golovkin, two of the pound for pound best fighters on the planet, look to become the undisputed number 1 middleweight.
The first fight ended in a controversial draw despite most feeling Golovkin did enough to win a points decision. Judge Adelaide Byrd, who inexplicably gave all but 2 rounds to Canelo was subsequently stood down from major fights and probably cost Triple G a majority decision victory. Much has happened since the first fight, not least Canelo Alvarez failing two drugs tests which pushed back the date for the long awaited rematch.
In terms of predicting the outcome for this fight, one lesson we certainly learned in the first bout is that both men have granite chins. They both landed clean and barely budged their opponent; in particular Canelo had flashes of success where he landed power punches on Golovkin's chin and GGG didn't blink. For that reason, I won't be looking at any stoppage markets for this fight. The fight going the distance, regardless of the winner, is 4/7 with SkyBet or Betfair.
Fight To Go The Distance - 1pt @ 4/7
Canelo started very well in the first fight and probably won the first two rounds, with Golovkin looking cagey and overwhelmed. However, once Golovkin settled down and found his rhythm he started marching Canelo back and dominated the fight.
Many criticised Canelo's lack of activity through the middle rounds but the fact was he simply wasn't allowed to put his shots together as Golovkin's relentless style put him constantly on the back foot. Throughout the middle rounds Canelo looked more like he was in survival mode than looking to launch his own offense.
There's no reason to believe the second bout will be any different regardless of what Canelo tries to do; Golovkin is likely to take his best shots, walk through them and wear Canelo down with his superior activity and strength. The bookies view it as a close matchup, but just about price Golovkin as the favourite at around 4/6, Canelo's odds are slightly longer at 11/8.
It certainly feels like another close distance fight is on the cards – with Golovkin once again having the best of the majority of the rounds. Golovkin to win by decision or technical decision is 11/5 with Ladbrokes.
Golovkin To Win by Decision Or Technical Decision - 1pt @ 11/5
In terms of longer odds that can provide a bit more return for your stake, in fights like this where the fighters are closely matched and a distance fight is likely, the Decision Victory markets offered by Ladbrokes & Coral are worth a look.
Golovkin is 3/1 to win a unanimous decision, but with two very different styles on display there is a chance that judges will diverge in what they like (on one hand Canelo's speed and slick defence vs Golovkin's relentlessness and work rate) then the chances of a majority or split decision seem reasonable.
Golovkin to win by split decision (where two judges award the bout to Golovkin vs 1 judge for Canelo) is 14/1 and Golovkin to win a majority decision (where two judges award the bout to Golovkin vs 1 judge for a draw) is 18/1. Both offer good value in what looks to be a close and tense fight between two of the best in the business.
Golovkin To Win By Split Decision - 1pt @ 14/1