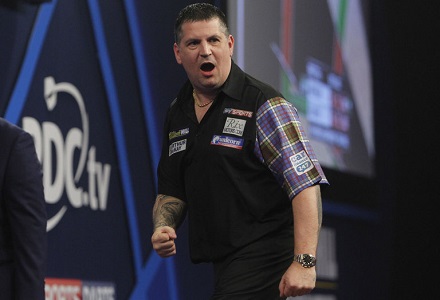 Phil Taylor v Adrian Lewis (19:10)
Both Phil Taylor and Adrian Lewis won again last week to make it three wins out of four for the pair. Taylor won a high quality contest 7-5 against Dave Chisnall averaging 115.25, hitting 7 180s with a 50% checkout rate. Lewis scraped to victory against James Wade by the same scoreline with 14 darts missed at a double between them in the final leg alone. In the tournament to date, Taylor has a better average (104.91 - 99.26), more 100, 140 and 180 visits (59, 35, 17 respectively = 111 - 54, 25, 16 respectively = 95) and a better checkout rate (46.94% - 40.32%). However, Lewis has won 4 of their last 5 meetings including two of their three on tour in 2016. With both players switching to new darts this year, there isn't a great spread of data. With that in mind, it's worth taking a bigger price especially in a short format. As already mentioned, Taylor is making more ton+ visits than Lewis and has hit more 180s despite playing two fewer legs. Phil is 21/10 to hit the most 180s and that looks the play. He's already beaten big 180 hitters in his matches against Chisnall and Anderson in this department whilst Lewis lost this battle against the not exactly renowned 180 hitter Wade last week.
Phil Taylor most 180s - 1pt @ 21/10
Dave Chisnall v James Wade (19:50)
Chisnall was unlucky not to claim a point against Taylor last week missing two darts at tops in the final leg. However, it now means he hasn't won any of his last three matches in the Premier League to further compound not getting past the last 32 in any of the three UK Open qualifiers last weekend. Wade only has himself to blame for failing to pick up a point against Lewis, missing eight darts at a double himself, meaning he's lost his last three, so neither make an attractive proposition in the match odds. Given Chizzy's extra scoring power, Wade will have to make the most of his checkout opportunities. With this in mind, look for Wade to take out a 97+ finish. This bet would have won in 12 of his last 15 TV matches (80%), with an average finish of 110, including taking out 138 against Chisnall at the Masters in January.
James Wade over 96.5 checkout - 1pt @ 5/6
Robert Thornton v Gary Anderson (20:30)
Robert Thornton failed to take advantage of Peter Wright using new darts by only taking a point despite being 6-4 up. He averaged just 91.98 to take his tournament average up to a paltry 85.85. Reigning World and Premier League champion Gary Anderson followed up his UK Open qualifier tournament win averaging 106 in the final with a decent 7-3 victory over van Barneveld last week averaging 103.34. Anderson is just 4/11 to win but we can take advantage of Thornton's poor form by boosting this to 6/5 with Gary also winning the 180 count. Anderson has hit 7 180s in 31 legs so far, with 24 140s. In the same amount of legs, Thornton has managed 4 180s and just 13 140s in comparison. In Anderson's last 19 Premier League victories, he has also hit the most 180s on 14 occasions (74%).
Gary Anderson - 1pt @ 19/10
Peter Wright v Michael van Gerwen (21:10)
Peter Wright once again switched his darts last week but was unsuccessful, with his performance below par from his usual standards as he was lucky to pick up a point. If Michael van Gerwen was playing darts on another planet he's now playing them in another universe. He smashed the world record televised average with 123.40 in his 7-1 defeat of Michael Smith. Had he not missed double 18 in the 7th leg for a whitewash he would have averaged 136. Given his form, it's no surprise to see him no bigger than 4/11 to beat the current Premier League leader. Backing MVG to hit the most 180s at 9/10 looks value however. He's hit 18 so far in 40 legs compared to Wright's 12 in 44 legs. Taking into account last seasons Premier League, MVG averages a 180 every 0.36 legs in-comparison to Wright's average of every 0.21 legs. In van Gerwen's last 14 group stage victories he has hit the most 180s times.
Michael van Gerwen most 180s - 1pt @ 9/10
Michael Smith v Raymond van Barneveld (21:50)
There wasn't a lot Michael Smith could do last week against the juggernaut performance of MVG. Regardless, he's still not playing the darts that got him into the Premier League and still averaged a measly 91.41. Van Barneveld ran into a rejuvenated Gary Anderson and didn't do a lot wrong in a 7-3 defeat. He's posting better figures in every department to Smith but has actually lost four of the last five against the man from St Helens so the match odds are to be avoided. Instead focussing on Smith's average looks the way to go. In the eight matches he's played this year on stage in the Premier League, Dutch Masters and the UK Masters, he's averaged just 90.85 over 98 legs. Indeed in his 10-7 defeat of Barney at the Masters in Milton Keynes, he averaged just 90.93.
Michael Smith under 94.5 average - 1pt @ 5/6