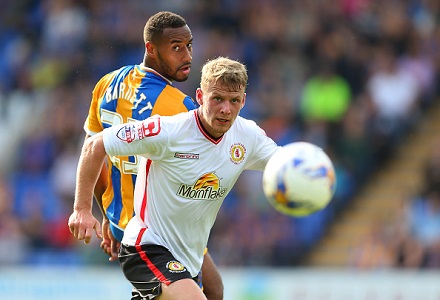 Crewe did the business for Oddschecker followers at tasty odds of 13/2 a fortnight ago and though defeat at home to non-league Eastleigh in the FA Cup last weekend has put manager Steve Davis straight back in the doghouse, it's worth swimming against the tide with the Railwaymen for a second successive league outing by taking the 7/1 available on them beating Bradford this weekend.
The case for the away win at Valley Parade is pretty much what it was ahead of the visit from Sheffield United two weeks ago. This isn't a bet for anyone pre-occupied with strike rate, it's purely a case of going against the grain because the price crosses the line of being generous to disrespectful. For all of their faults, Crewe are capable opposition in the right circumstances and when the game plan is straightforward.
Victory over the Blades was a tad fortunate but a similar performance could reap similar rewards against a Bantams side who seldom stamp their authority on home soil as much as they should. Since October 2013, Phil Parkinson's men have won just 15 out of 49 home matches (losing 17) and my 16-match ratings make the Yorkshire club no bigger than 10/11.
By the same criteria, Crewe should be 9/2 and it's worth noting that, under Davis, they have a history of outperforming their shot data in terms of results. Curiously, it's mostly down to a fine end-of-year record. Over the past four seasons, Alex have averaged 1.59 points per game between mid-October and New Year's Day, compared with a meagre 1.04 ppg average at all other times.
The setback against the Spitfires in the cup last weekend sparked angry scenes at the final whistle, so there's little doubt the Cheshire outfit have some making-up to do and another game as rank outsiders might be just what the doctor ordered. Given how my ratings also produce an extremely low goals expectancy of 1.99, a bet on Crewe to win 1-0 is also worth considering at massive odds of 19/1.
Meanwhile, Northampton put their financial worries to one side with an eye-catching FA Cup success at Coventry last weekend but there's a danger those off-the-field uncertainties could catch up with them against a miserly Mansfield side. Take the 9/4 about the Stags coming away from Sixfields with maximum points and back it up with a bet on Mansfield to win to nil at 9/2.
Adam Murray's men are currently sixth, just two points behind the Cobblers with a better goal difference, and they've gone toe to toe with the top three and matched them all, picking up a respectable goalless draw at Portsmouth on their last away trip. It's questionable whether Northampton belong in that category now, at least not while the players are going unpaid and the future of the club remains in such jeopardy.
Plenty is being made of the fact that Mansfield haven't scored for three games but they're creating bundles of chances and seven clean sheets over the past two months is probably of much greater relevance, contributing to an aggregate score of 15-8 over the last 11 league outings. In terms of shot data, the Stags boast an impressive 57 per cent shot ratio, markedly better than Northampton's 51 per cent.
For more information about Mike Holden's shot-based ratings system, follow this link.
Recommended Bets:
Crewe to beat Bradford - 1pt @ 7/1
Crewe to win 1-0 - 1pt @ 19/1
Mansfield to beat Northampton - 1pt @ 9/4
Mansfield to win to nil at 9/2 - 1pt @ 9/2