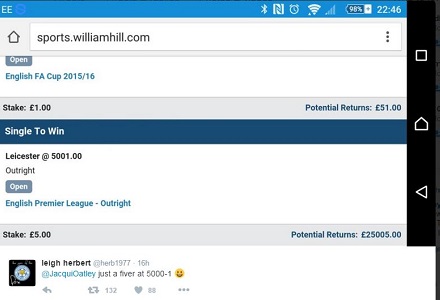 We chat to Leigh Herbert, the man who stands to win a cool £25,000 if Leicester win the Premier League after backing the Foxes at 5000/1 at the start of the season.

What made you place the bet in the first place?
LH: It was the day we appointed Claudio Ranieri. I was away in Newquay, camping with the missus, and I kept thinking to myself 'Claudio Ranieri? He's a quality manager!'

When and how did you place the bet?
LH: To be quite honest, it was my first ever bet so I went onto Google and searched for 'odds on Leicester to win the league' and most of the prices I saw ranged from 4000/1 to 5000/1. I chose Willliam Hill because I had heard of them before, downloaded the app and just put a fiver on it!

Why are Leicester where they are in the Premier League?
LH: I think this run started last season when they weren't even winning, they were still playing well and were often unlucky. Then something clicked and they went on a great run at the back end of the season under Pearson. Ranieri has come in and been able to build on that. The team spirit is unbelievable, the players just love playing for him and he has sorted the defence out, which has been the foundation to our success. Oh, and of course we have got Jamie Vardy!

Which Leicester players have impressed you most?
LH: It would be easier to say who hasn't! Mahrez has been immense, Kante doesn't stop and I even rate Kasper Schmeichel so highly that he's as good as his dad. I also think Danny Drinkwater is one of the most underrated players in the league - he should be pushing for a place in the England squad, at least. They are a proper team, they all play for each other and it's a joy to watch.

How do you feel about Leicester's prospects right now?
LH: I really think we can win this league now. The Christmas period was crucial and we got through that, despite most people predicting we wouldn't. I'm not even thinking about the Champions League places, we can win the title, the belief is truly there throughout the club now, and we would take a big step towards that dream if we were to beat Man City on Sunday.

How big is this weekend's game against Manchester City?
LH: It's an extremely important game and I honestly think we will get a draw, which I will be delighted with. City are the best team in the division on paper but they don't have our team spirit and we could really make people sit up and realise that we are a serious title contender if we get something from the Etihad. If we don't pinch it 2-1, I think it will be a draw.

What will you do with the winnings?
LH: If I won there would be enough there to pay off all my debt, all of my missus' debt and there would be enough left over to go towards a deposit on a house. I've been renting all my life and I would love to buy my own home.

Have you got a tip for us?
LH: Jamie Vardy has surely earned a place in England's Euro 2016 starting line-up and he's a cool 66/1 to be tournament top scorer. Get on!

Leigh backed Leicester to win the Premier League at 5000/1 but they were only 1000/1 with some bookmakers, which is why you should always use Oddschecker.com to find the best odds!


Jamie Vardy - 1pt @ 66/1