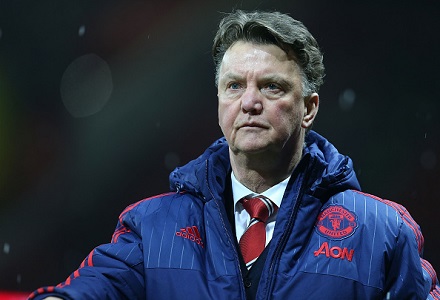 It's a saga that has dragged on all season and still no one is any the wiser on who will be in charge of Manchester United next season.
United will not be playing Champions League football after missing out on a top-four place and even an FA Cup final win over Crystal Palace at the weekend won't appease the majority of United fans who are desperate to see the back of Louis van Gaal.
But sustained silence from with the club's hierarchy has only served to fuel the fire of uncertainty about whether the Dutchman will be replaced and, more importantly, by whom.
The 'Next Manchester United Manager' market has been a rollercoaster of a ride throughout the season and we take a look at the timeline of events that contributed to the price fluctuations.
AUGUST 2015
Betting:
15-8 Ryan Giggs, 5-2 Pep Guardiola, 14-1 bar.
United had qualified for the Champions League and there were very few possible big-name replacements not currently in work. Club legend Ryan Giggs and Bayern Munich boss Pep Guardiola dominated the betting at that time, but United were never going to ringing the changes so early in a campaign.
SEPTEMBER
Betting:
6-4 Ryan Giggs, 5-2 Pep Guardiola, 10-1 Gary Neville
Not much had changed at this stage, although there were one or two people wanting to speculate with a few quid on Gary Neville who had been backed into 10-1.
DECEMBER
Betting:
1-4 Jose Mourinho, 9-2 Ryan Giggs, 8-1 Pep Guardiola.
December was the month where this market burst into life as Jose Mourinho was sensationally sacked by the champions, who had lost nine of their opening 16 league matches. This coincided with a poor run of form from United, who suffered an early exit from the Champions League, while successive league defeats to Bournemouth, Norwich and Stoke (Boxing Day) meant the heat was really being turned up on van Gaal.
JANUARY 16
Betting:
Evens Jose Mourinho, 7/2 Ryan Giggs, 9/1 Pep Guardiola
Despite incessant stories in the media, the spotlight gradually faded on van Gaal who oversaw a revival in United's form. The Reds went through January unbeaten, including a crucial 1-0 win at arch-rivals Liverpool.
Betfair: Bet £10 get £30
FEBRUARY
Betting:
1-6 Jose Mourinho, 6-1 Ryan Giggs, 10-1 Mauricio Pochettino
Despite the upturn in fortunes on the pitch, the constant media speculation surrounding Jose Mourinho's future meant that United were only ever one bad result away from being plunged into crisis again. That result came in the form of a 2-1 defeat at Danish minnows Midtjylland and although United eventually qualified for the next round of the Europa League, the damage had already been done. A new name also came to prominence in the next manager betting as people starting speculating on the future of Spurs boss Mauricio Pochettino, who was in the process of overseeing a major upturn in the fortunes of the White Hart Lane club.
MARCH
Betting:
4-9 Jose Mourinho, 9-2 Mauricio Pochettino, 5-1 Ryan Giggs
Despite not setting the world alight, United's form in March was generally quite good. However, a 3-0 hammering at Tottenham sunk the club into further turmoil and, by this stage, there was an overriding feeling among United supporters that van Gaal had to go.
MAY
Betting:
1-5 Jose Mourinho, 6-1 Laurent Blanc, 8-1 Ryan Giggs
So here we are, none the wiser on what the future holds for Louis van Gaal and whether the United board have made any contact, or intend to, with Jose Mourinho. The plot has thickened in recent weeks though as there has been sustained support for PSG boss Lauent Blanc, a former United player and widely regarded as one of the elite managers in world football, despite not having the body of work of a Mourinho or Guardiola. The Frenchman's odds have tumbled into 6-1 from 40-1 for the United hotseat which suggests there may be some substance behind the speculation that is linking him with a switch to Old Trafford.
Click here
for prices on whether Louis van Gaal will be still be in charge of Man United on the opening day of next season.
Laurent Blanc - 1pt @ 6/1