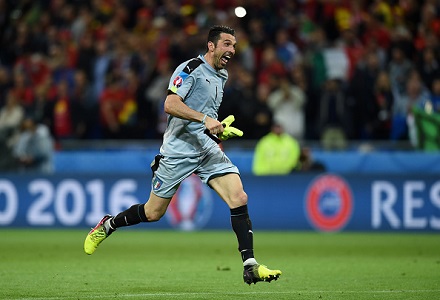 Italy v Sweden - Friday 14:00, ITV1
In betting, there's always a fine line between staying one step ahead of the crowd and trying to be too clever. It's the difference between confidence and over-confidence. However, while the Italy/Italy half-time/full-time tip against Belgium is still relatively fresh in the memory, forgive me for trying to push my luck now the tidal wave of opinion has turned in favour of the Azzurri.
Cast in some quarters as no-hopers before a ball had been kicked, it's suddenly conventional wisdom that the Italians boast the best coach at the competition and can go a long way with Antonio Conte planning what goes on in front of that formidable Juventus backline. Based on the evidence of one game, plenty are now tipping them to lift the trophy.
But it's only one game. The point was made in that last preview that the circumstances going into that game were ideal for the Azzurri to enjoy their defining moment at this tournament and although a place in the knockout stages is already virtually assured, they might have to dig extra deep to hit those heights again. Even more so when you look at the performance data.
Because that reaffirming win over Belgium arguably comes at a price. No team in the opening round of matches ran further than the Azzurri, their combined total of 119.7 kilometres was almost 12 kilometres more than Marc Wilmots' men - effectively the equivalent of playing with an extra man - and it was more than four kilometres more than next-best Ukraine.
Get 5/1 on Italy beating Sweden with 10 BET
When you consider that Italy also fielded the oldest starting 11 in the competition so far, while they face the joint-quickest turnaround at just 88 hours, then it's not stretching the imagination too much to suggest a flat performance could follow against Sweden. Russia, who also fell short of four days between their first and second outing, conceded twice in a sluggish first-half against Slovakia.
The question is how much Sweden can take advantage. Erik Hamren's men failed to register a single shot on target against the Republic of Ireland, so it's probably asking a bit much for them to turn that Old Lady rearguard around too often - especially with 34-year-old Zlatan Ibrahimovic responsible for virtually all of their creative inspiration.
As such, the value appears to be with
the draw
at 5/2, not least because, as time elapses, the stalemate begins to appeal more and more to both sides. Italy have a top-two finish to protect and must respect the fact that the Swedes are fresher, while Sweden would still keep open the possibility of needing just a point in their final game and must respect the fact that Italy are better.
As such, it could be tight throughout and there's a temptation to take the 13/2 avaiable on the 0-0. On balance, though, there's more mileage in backing the
Draw/Draw
half-time/full-time bet at 4/1. The England v Russia and Ireland v Sweden games both fell into a pretty similar category and though clear-cut chances were few and far between, both games finished 1-1 in the end.
Click here for more information about Mike Holden's shot-based ratings system
Italy v Sweden draw - 1pt @ 5/2
Draw/Draw half-time/full-time - 1pt @ 4/1