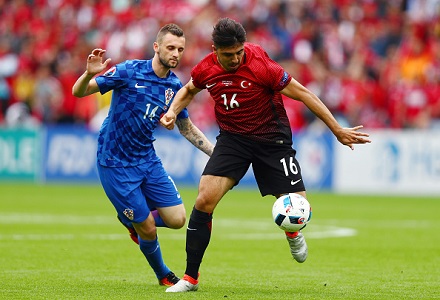 Czech Republic v Turkey - Tuesday 20:00, ITV4
Fatih Terim pulled no punches in his post-match press conference following Turkey's 3-0 defeat to Spain, accusing his players of throwing in the towel once they had fallen behind, and describing their second-half performance as unacceptable. The timid surrender in Nice would have been a surprise, had a similar thing not happened in their first game against Croatia.
However, at 0-0 in both matches, the Turks played with purpose and showed flashes of quality. Only brief glimpses maybe, but there was enough to suggest they have the beating of the Czech Republic. If they turn up in Paris and deliver the kind of response that Terim is now promising, they can even win this game by whatever margin necessary to secure qualification.
The distance covered stats tell the whole story of those first two outings. The Turks ran six kilometres fewer than the 24-team average in the opening round, and four kilometres fewer than the average in the second round, which is quite alarming when you consider who they were playing and the fact they spent 105 minutes trailing.
And yet perversely, such a flagrant lack of intensity might reap its rewards here. Against the same opposition, the Czechs have covered an extra 16 kilometres over the past nine days and, plucky though they were to snatch a point against Croatia, we all saw how lethargic their performance was until Luka Modric went off and Pavel Vrba responded with a double substitution on 67 minutes.
Open an account with BETFRED and whe you bet £10, you get £30!
With everything on the line for both teams, much could depend on the legs in the respective starting line-ups and Turkey undoubtedly have the edge on that score. The Crescent-Stars have used 17 different players up to this point - with only six completing the full 180 minutes - and Terim has the options and inclination to rotate further.
Vrba, by contrast, is limited. His talisman Tomas Rosicky will miss the rest of the competition with a thigh injury and, even if he sticks with the other 10 players that sparked the surprise turnaround in Saint-Etienne, he will still be fielding eight men who have played 176 minutes or more, the vast majority of whom appeared to be running on empty for over an hour.
Ultimately, though, the case for backing
Turkey
at 11/5 comes down to bottom-line quality. Whatever ten outfield players they go with, virtually every one plays their club football at a higher level. As a nation, they also have a history of saving their best for the death or glory moments in a tournament, often staging remarkable fightbacks from the brink of despair.
At Euro 2008, under Terim's guidance, they came from 2-0 down with 15 minutes to go to beat the Czechs 3-2, snatching a knockout place away from them in the process. The order isn't quite as tall this time but they probably need to win by two clear goals to give themselves a chance. If they get anything like the opportunities Croatia had, they could clear the
-1 handicap
without any problem.
Click here for more information about Mike Holden's shot-based ratings system
Turkey to win - 1pt @ 11/5
Turkey -1 on the handicap - 1pt @ 6/1