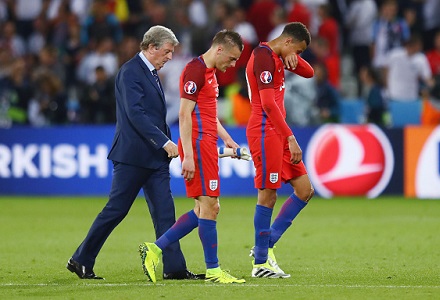 It's a feeling of frustration from last night that overrides the disappointment of not topping Group B.
I'm convinced tournament football is all about momentum and you lose what momentum you have built up when you chop and change your starting eleven to the extent Roy did against Slovakia.
Everybody wanted the manager to leave out Raheem Sterling and Harry Kane, who just haven't been anywhere near their best in the two previous games, so he can hardly be criticised for that, but the decision to switch both full backs was a strange one for me as Danny Rose and Kyle Walker have been two of our best players in the tournament so far. Obviously Clyne and Bertrand are both good players but I think in tournament football you should be playing with continuity and momentum, and too many changes ruins this.
France made changes in their second and third group games but their back four has remained the same throughout and, while I get that from a defensive perspective we didn't concede so it didn't really make much difference, we definitely didn't have the same attacking threat down the flanks that we had in the Wales game. As a result, most of our attacks ended up being funnelled through the central areas of the pitch, which played perfectly into Slovakia's hands.
The game didn't really suit Jamie Vardy as he couldn't use his pace to get in behind the defenders, I can only remember it happening once, so I wouldn't be too harsh on him. Daniel Sturridge was dropping too deep and trying to pull the strings in and around the area, something that he probably wouldn't have been able to do if Deli Alli was on the pitch and taking up those positions.
Get a £50 FREE BET when you open an account with NETBET
I can see why Roy would have wanted to give Wayne Rooney a rest, especially as he's going to be so important to us in the knockout stages, but Jack Wilshere just doesn't look match fit mentally or physically. Some of his decision making was poor and the decision to start with the Arsenal midfielder didn't really pay off.
Despite all that, England have been a little unlucky in that they have yet to play a team that have wanted to leave their own half, but the structure of the tournament is a major factor in how these games are being played.
Increasing the tournament to 24 nations and allowing third placed teams to qualify has meant that some teams know they only need a point to secure a place in the knockout phase, and that's exactly what they set out to achieve, as Slovakia demonstrated last night. If there were only two teams to qualify from each group then we wouldn't have this predicament – Slovakia would have needed to win and that would have made for a very different encounter.
There were no such problems last night for Wales who were a breath of fresh air and fair play to them. They were dubbed a one-man team by everyone going into this tournament but they've had four different goalscorers so far and while Bale always steals the headlines, Joe Allen and Aaron Ramsey have been superb so far. I loved the comments of Chris Coleman after the match, the players must absolutely love playing for him, and they have a great chance of making the quarter-finals now, which is some achievement.
All the best,
Robbie