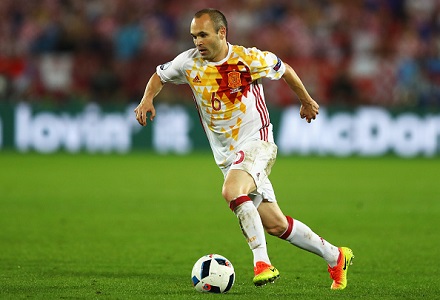 Italy v Spain - Monday 17:00, BBC1
Death by a thousand cuts. We're all familiar with the phrase by now and we all know what it means, so my reasons for backing Spain to win in extra time at 10/1 and Spain to win on penalties at 9/1 should be fairly transparent. It's simply a case of backing La Roja to do what La Roja do, albeit in the face of a bit more resistance than usual.
Since 2008, the two-times defending European champions have played ten knockout matches at major tournaments and won the lot. Three times the breakthrough came in the first half, four times in the second period, once they needed extra time and twice they needed penalties. It's a formidable record that, reassuringly, is based primarily on a philosophy, not personnel.
In each instance, they kept a clean sheet and showed patience, never forcing the issue until their overwhelming domination of the ball took its toll. A combined total of 16 hours have now elapsed without Spain conceding a goal in knockout football, which is a much more relevant statistic than the broken ones banded about in the wake of the Croatia defeat.
Context is everything. As monumental as Ivan Perisic's late winner seemed at the time, the ramifications of which will continue long into the knockout stages, the Croatia game wasn't sudden death. It wasn't against a Spain team in knockout mode. In fact, you could argue it was a mistake of Vicente Del Bosque to field a full-strength team when progress was already assured.
Get 6/1 on Spain to beat Italy with Paddy Power
So now Spain must embark on the toughest possible route to the final: Italy, Germany, then France - assuming there aren't further upsets, of course. With such sizeable tasks lurking on the horizon, don't be surprised if a cultural leaning towards uncertainty avoidance is even more prevalent here. Progression would be pointless if there's nothing left in the tank for the next mission.
The Italians are familiar foes for La Roja, a nation both feared and respected in equal measure. But nowadays, the Spanish know they have the beating of them. They were the first and last opponents faced in those ten knockout matches, with Cesc Fabregas sealing a penalty shoot-out win at Euro 2008 and David Silva's near-post header sparking a rout in the final of Euro 2012.
The current Azzurri squad is weaker than those previous two, with fewer attacking options. But in Antonio Conte, they have a manager capable of pushing them to great heights, as demonstrated in a streetwise dismantling of Belgium. Subsequent games against Sweden and the Republic of Ireland have highlighted their limitations but, by that stage, the hard yards had already been done.
On which note, no team ran further than Italy in the group stages (336km) and though wholesale rotation for the Ireland game should facilitate a similar high-intensity approach that keeps Spain at bay for 90 minutes, it might only be delaying the inevitable. Once you go beyond the 90, tired minds and bodies are more likely to slip up, making
Spain the safer bet
to prevail in the final throes.
Click here for more information about Mike Holden's shot-based ratings system
Spain to win in extra time - 0.5pts @ 10/1
Spain to win on penalties - 0.5pts @ 9/1