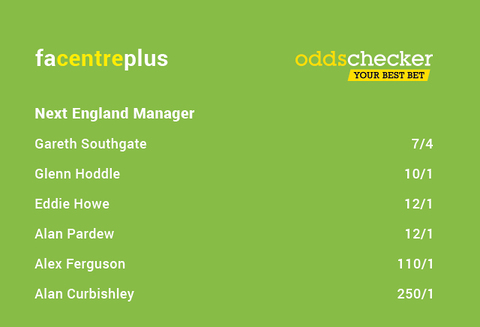 So Roy is out of the job after the diabolical showing last night but who are the men that could replace him?
Gareth Southgate
Having cut his teeth unsuccessfully with Middlesbrough, taking them from the middle tier of the Premier League to the Championship in three seasons, Southgate has been in the England set up since 2013, as manager of the under-21 team. Having led a successful qualifying campaign for the 2015 Under-21 European Championships, England failed to get out of the group stages and Southgate refused to resign on the back of that.
Best Odds – 7/4
Glenn Hoddle
Having managed England between 1996 and 1999, as well as Chelsea, Southampton and Spurs among others, Hoddle does have management pedigree at a high level. The problem is that experience was the best part of 20 years ago and although he recently worked with Harry Redknapp at QPR he does not have the credentials to take the top job again.
Best Odds – 10/1
Eddie Howe
Eddie Howe has been a revelation at Bournemouth, taking them from League Two to the Premier League in two spells over the course of seven seasons. His brand of football would certainly please England fans as his teams are well set up and play a possession game that gets results. He's also never been affiliated with England managerially before and would bring fresh ideas to the job.
He would be our choice but it would be difficult to persuade him to abandon his project at Bournemouth.
Best Odds – 12/1
Alan Pardew
Pardew's name has been mentioned a lot when talking about the next England manager over the last decade. He has previously distanced himself from the job and has been overlooked in the past for his lack of experience at the top level. He's also another one who would be difficult to prise away from his current job at Crystal Palace.
Best Odds – 12/1
Sir Alex Ferguson
England fans will be hoping that Fergie is not enjoying retirement as much as he says he is and would be ecstatic at the prospect of him taking over. Having previously had the opportunity to manage England down the years combined with his insistence that his retirement from football management is permanent, this one looks unlikely.
Best Odds – 100/1
Alan Curbishley
Curbishley has been linked to what seems like every managerial vacancy for the last ten years and this one is no different. None of them have come to fruition though and he hasn't managed since leaving West Ham in 2008.
Best Odds – 250/1