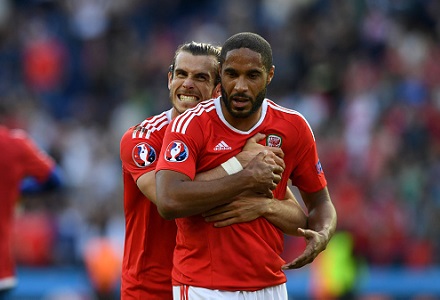 We've gone looking for some intriguing bets ahead of this week's semi-finals
Current top scorer (with two) Mario Gomez did his hamstring against the Italians and will miss the rest of the tournament. That leaves the door ajar for another German to seize their opportunity and fire their country to Euro glory.
Mesut Ozil is one goal behind Gomez and is a 7/1 shot to surpass Gomez's total whilst Thomas Muller, Gomez's likely replacement in the centre of attack, hasn't fired so far but could thrive in his new role and is available at 8/1.
You have to think that if Germany are going to win Euro 2016, they will need someone to step up. Or alternatively you could just back Gomez at 5/7 in the hope no one does!
Thomas Muller Germany top goalscorer - 1pt @ 8/1
Germany v France half-time/full-time
Zee Germans have hardly played the exhilarating, thrill-a-minute football you'd expect from the reigning World Champions. Instead, they've been solid, compact and well, German.
Until their quarter-final with Iceland, France had suffered badly from slow starts, struggling to get an early breakthrough and having to rely on strong finishes to rescue the situation.
Combine these nuggets with the fact it's a semi-final and every player is bound to be a bit nervous and we could be set up for a rather cagey affair, especially in the first 45 minutes.
With this in mind the Draw/France and Draw/Germany markets are worth highlighting depending on your fancy.
The France alternative is best-priced at 26/5 with the Germany option 11/2.
Draw/France - 1pt @ 26/5
The way Wales played against Belgium combined with the way Portugal have played throughout the whole tournament makes you wonder how Wales are 16/5 to win their Semi-Final.
Moreover, the odds of 28/17 for them to qualify means you don't have to worry about whether they do it in extra-time or on penalties.
Wales to qualify - 1pt @ 28/17
Player of the Tournament
Bear with us on this one as it takes some imagination…
A quick look at this market and it looks like a two-horse race between the Frenchmen Dimitri Payet and Antoine Griezmann. However, IF you look at the possibility of the Germans defeating France in the semi-final, all of a sudden you have to consider the prospect of a French player NOT winning it.
The shortest priced German in the market is Toni Kroos. He goes about his business so efficiently that you barely notice him, not exactly the type of candidate you want to win this kind of award.
(Still with us?)
Next up is Portugal's Cristiano Ronaldo who has two goals to his name all tournament and has on the whole, spent more time moaning and throwing his arms in the air than doing anything productive. Plus, his Portugal side haven't exactly set the tournament alight and will have to make it past Wales to make the final.
(We're getting there)
SO imagine please if you will, IF Wales can beat Portugal to set up a Wales v Germany final. For that to happen you imagine one man will be pivotal. Step forward Mr Gareth Bale.
A 66/1 poke at the start of the tournament, the Welsh superstar is now best-priced 17/2 and who, if you discount any of the French players, looks the most likely to have the biggest impact for their team over the next two games.
Having said that, the bookies might be right and the French might beat the Germans and the whole theory goes out of the window…
Bale player of the tournament - 1pt @ 17/2
And if all that seems a bit too much effort then why not simply test your prediction powers and just pick who you think will play in the Final.
Wales v Germany - 1pt @ 4/1