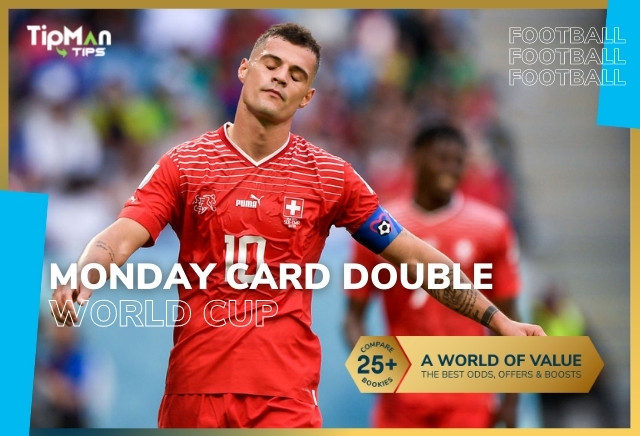 Yellow card double from TipMan Tips for Monday's World Cup matches.
16:00 Monday
Granit Xhaka to be booked
Brazil face Switzerland in Group G after both teams ran out winners in their opening game making this a head-to-head for qualification and more than likely group winners.
Brazil looked very good at times against Serbia but did pick up a few key injuries, said TipMan Tips, while Switzerland were not at their best against Cameroon but edged a win.
Switzerland are a dogged team though and none-more so than captain Granit Xhaka. We all know what he's been like for Arsenal in terms his discipline record and facing a Brazil team full of flair and technique you'd expect them to be up against it at teams with their route to victory seemingly breaking up play and hitting Brazil on the counter.
The two teams average 3.7 cards per game so you can expect a few tackles flying in here with both teams having a couple of bookings each.
Both sides commit over 10 fouls per match and the Brazil side are fouled on average 12.4 times a game. Xhaka has averaged a card every 0.45 games for Arsenal in recent years.
19:00 Monday
Rodrigo Bentancur to be booked
Portugal and Uruguay go head-to-head in Group H in a massive game and a game which you can expect a few tackles to by flying in based on the players both of these sides have.
Portugal can secure qualification after beating Ghana in week 1 and Uruguay struggled at times against South Korea and will be looking to prove a point here.
Both sides average 3.66 cards per game but I'd expect that average to increase today, Portugal in fact saw six cards in their opening game against Ghana.
Bentancur has a vital role to play for Uruguay in the heat of midfield and is up against some excellent technical players in the Portugal side, plus a few who know how to buy free kicks in the form of Fernandes and Ronaldo.
Bentancur is a regular in the referee's notebook and has already picked up five cards for Tottenham in 14 matches. He's an energetic player who loves getting his foot in and we'd expect him to have a busy night of making tackles against this Portugal team.