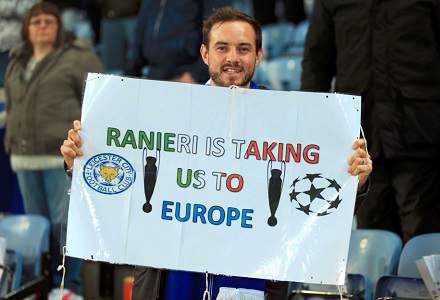 With the draw for the Champions League group stages imminent, the Premier League champions will be anticipating some tough but exciting games this winter. As with the new UEFA rules for seeding teams, all Champions go into pot one meaning Leicester are alongside the powerhouses of European football. The dream days away at the Camp Nou or Bernebeu will have to be put on hold for now, perhaps acting as extra motivation to get out of the group. Who will Leicester be hoping for?
Pot three and four are populated with teams you would fancy Leicester to beat, though an away day at Besiktas isn't one you take lightly. Dynamo Kyviv and Lyon are certainly not preferred options either, whilst Ludogrets Razgrad and Club Brugge are two ties you would expect a minimum of four points from. Celtic could set up an all British affair which would be fascinating to watch, though again you would expect Leicester to pick up points at home.
Onto pot two where you'll find last year's finalists Atletico Madrid along with Borussia Dortmund. Both are very difficult games especially for a team who have never played at this level previously, though they can take heart from Liverpool's performance against the latter in last year's Europa League. Porto and Bayern Leverkusen look to be the opponents favoured by Ranieri's men from this pot, who both have reputations for not travelling well.
Leicester's odds are longer than 14 teams to win the competition at 110/1 and the second longest of the pot one occupants behind CSKA Moscow at 200/1. Tottenham and Bayer Leverkusen are 66/1 and 100/1 respectively, are both two pots below the Champions of England in pot three, perhaps showing the lack of faith the bookies have on Leicester's chances.
Toughest draw
Leicester, Atletico Madrid, Lyon, Besiktas
Easiest draw
Leicester, Bayer Leverkusen, Club Brugge, Ludogrets Razgrad
Fans draw
Leicester, Borussia Dortmund, Celtic, Monaco
Leicester To Win The Champions League - 1pt @ 110/1