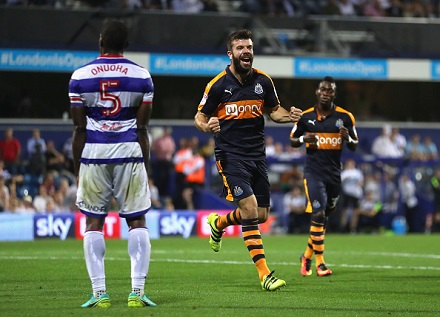 Newcastle's odds to win the Championship have moved from 7/5 to 4/5 on the back of their 6-0 thrashing of QPR last night.
It's fair to say that Newcastle's trip down to London last night went a lot better than the one they made to Fulham on the first day of the season.
Back on 5th August, Newcastle lost to Fulham 1-0 on the first day of the season. Having been strong favourites to win the Championship at 17/10 that loss moved Newcastle out to 11/5. Compare that to today and Newcastle are back to heavy favourites having beaten QPR 6-0.
Following on from that, It appears confidence is returning in Newcastle to win the Championship, with their good from coupled with Norwich slightly going off the boil. Newcastle also had an excellent transfer window, bringing in experienced Championship players and it seems Benitez has integrated them well already.
Claim Now100% bonus on your qualifying deposit (max £200)
The Magpies have now chalked up five Championship wins in a row, conceding only one goal in those matches. Although Huddersfield and Barnsley are right up there with them at the moment they are expected to drop away and if Newcaslte keep up their current form it's looking ominous for the rest of the Championship.
The bookies think that only Norwich have any chance of challenging them for the title, at best odds of 11/4. After that the next club is Brighton, at best odds of 10/1 but it is difficult to see past one of Newcastle and Norwich winning the Championship this season.