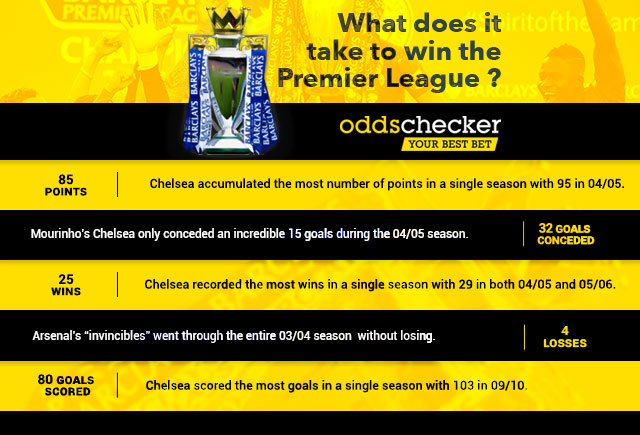 What are the average stats a team would need to win the Premier League in a 38 match season?
Above is an infographic highlighting what winning teams need to achieve to secure the Premier League title. The highlighted numbers are averages and are collated since the Premier League moved to 20 teams in the 95/96 season.
Most of the records were set at least a decade ago and Chelsea hold most of the records for highest/lowest stats but can anyone do any better this year?
It seems unlikely at this stage because most of the 'big teams' are in a stage of transition and they are on paper, a very similar standard. Gone are the days of one team dominating the league, which was the case with Man United in the late 90's, Chelsea briefly in the mid-2000's and Man United again at the end of the decade.
Leicester's Premier League triumph last year was won with only 23 wins and 81 points, the lowest total since the 00/01 season when Man United won with 80 points.
With so many teams capable of winning the league this year it would be safe to assume that an average total may be enough to secure the title. We could see that points total go below 85 for consecutive seasons with as many as five or six teams in contention towards the run-in.
Claim NowBet £10 and Get £20 in Free Bets with William Hill
Man City were the league's top scorers last season and were again when they won the title in the 13/14 season, with 102 goals. With the addition of Pep Guardiola and a fit Sergio Aguero, they look like the best bet to be the
top goal scorers
again in the coming season.