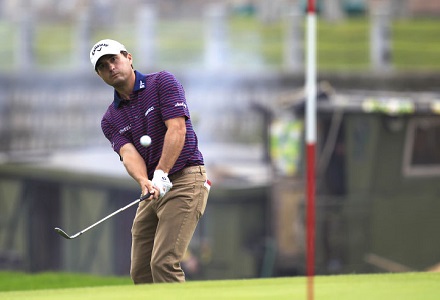 Kevin Kisner can shake off the bridesmaid tag with victory in the RSM Classic at Sea Island.
This is the last official tournament with a full field in the 2015 calendar year in the States with the players making the trip to Sea Island, Georgia in an attempt to scoop up some fedex and ranking points before the Christmas break. Formerly the McGladrey event, this is a difficult one to judge. There is a change in the event this year with a full field, but more crucially a new course. The Plantation course is added to the schedule this week with the Sea Island track which they have played on here the last number of years. Players will play both courses on Thursday and Friday then switch to seaside course for the final two days. The seaside course is as close to a links as you can get in the States. It doesn't necessarily produce the results you'd suggest with such an examination though. However, those accurate golfers who can flight their ball in the wind usually score well here. The Plantation course is more tree lined and shade more dangerous with water to navigate around on a lot of the holes. Primarily we'll be looking at past scores here at the seaside course as well as those who have a solid long game.
Zach Johnson heads the market at 14/1 but with a very modest record in this event there is no way I'd be investing in him even though he has all the tools on paper. Recent first time winner Justin Thomas rates a better chance around 18/1 although I'm unsure if the courses would suit his game more than others. Kuchar turns up after a miserable performance last week and he can win all he likes now as I won't be investing in him for a long time. Very difficult to land and I'm a shade disappointed I backed him last week instead of McDowell who had been bubbling nicely recently.
Our top bet picks itself in the bridesmaid himself
Kevin Kisner
. You all know I'm a fan of this lads golf. Plenty has been written about the recent rookie winners on tour and they may land another win or two in their career, but the class acts stand out that bit more, none more so whenever Kisner slotted in behind Knox in Sheshan. The second placed finishes are racking up but what is interesting is that he hasn't exactly buckled in the situations. Possibly a bit twitchy with his putter under severe pressure but the lad is determined and he'll win sooner or later. He finished 4th here last year and the addition of the tree lined layout should be to his advantage with his accurate long game. The price is undoubtedly thin but we'll have to bet anyhow.
Kevin Kisner - 1.25pts e/w @ 22/1
Won 34.38pts
Bill Haas
has certainly been underestimated by the bookies heading into this week. His two visits here have resulted in a 2nd and 22nd placed finishes. Solid to say the least but I feel the introduction of the Plantation course should suit him even more, and despite being missing in action for a while it's worth taking the risk on him at the odds. He is accurate enough with his irons and can be a very hot putter on his day so Haas should take to his test once again. I feel his absence in recent weeks have maybe forced the bookies to push his price out but in a field plagued with journeymen and rookies he rates a solid bet at odds of 33/1.
Bill Haas - 1pt e/w @ 33/1
Lost -2pts
In what is a difficult event to land I'll leave it with a three pronged attack finishing up our staking plan with
Brendon De Jonge
. De Jonge has two top five finishes here and and despite some sketchy form of late his tail should be up heading to Sea Island. He has posted another two top 20s here so clearly likes the test and maybe this more experienced campaigner can continue the recent trend and become another first time winner on the tour. Simply considering his course form here the price of 50/1 is certainly tempting enough to have a small wager. Of the others McDowell has a solid chance of winning two weeks on the trot although I'm unsure how much last weeks win took out of him mentally and whether he'll be 100% at this task.
Brendon De Jonge - 0.75pts e/w @ 50/1
Lost -1.5pts