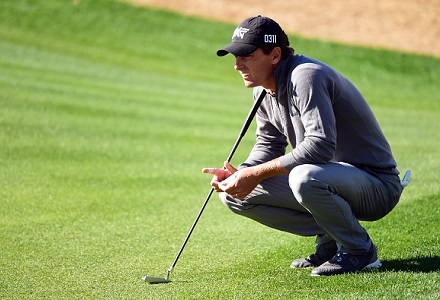 This event is played across two courses, Torrey Pines North and South. During the first two days everybody will have one bash at the North Course before taking to the South for the rest of the tournament. The North course is where it is necessary to make a score. It plays relatively easy and those who wish to contend on Sunday will be looking for a round in the mid to late 60s. The South course is where it gets really tough. A classical design it is challenging off the tee and doesn't get much simpler as you approach the green. The rough is thick and more often than not you'll find yourself with too tricky a lie to reach the green. Overall we'll be looking at the golfers who play these classical tests quite well.
Understandably Jason Day is jolly this week as he turns up as defending champion. This event in 2015 was a catalyst for a remarkable year for the Aussie and nobody can write him off this week. However, with such a hard task to win this difficult event I'd be looking a shade more value in his current price of 13/2. Dustin Johnson's length off the tee should help this week and he too could go well but I'm slightly put off by a lack of form around these classical layouts. I'll wait for a better opportunity to land the American. There is nothing overly strong to go at in this event but we'll be having a few wagers on a couple of likely sorts to perform around this difficult track.
First of all
Charles Howell III
must be backed considering his recent form. He has three top 5 finishes and a further three top 10 finishes in this event. He clearly likes this classical test. A win and a runner up finish at a similar test at Riviera also show his credentials for playing well around here. Granted, he is not a prolific winner and landing his third win on tour would be quite a feat. It is worth noting that he has only been outside of the top 20 once in his last seven events. He is in a solid run of form and it would be silly to stray away from him this week despite his poor win ratio for a talented fellow. His price of 50/1 is more than fair considering his form so we'll back him in the hope he can be a shade more ruthless at the business end.
Charles Howell III - 1pt e/w @ 50/1
Lost -2pts
Shane Lowry
can not be overlooked on a venue where he finished 7th last year. That finish alone should have been enough for us to have a small bet on him in last years Bridgestone but it didn't register until too late. These are the type of tests he seems to like. Surprisingly he is yet to turn up at Riviera where I feel his game should be suited also. Wentworth is another place where Shane has posted impressive results. Therefore tree lined, tight layouts seem to be where he excels. It doesn't exactly make sense as he is not the straightest of the tee. He can out-muscle courses now though and with last years Bridgestone fresh in his mind he could be poised for a solid performance. His 7th place here last year was his first outing of that year also so I'm hopeful he can go well fresh. 80/1 is fairly inflated for the similarly sized frame of Lowry.
Shane Lowry - 0.75pts e/w @ 80/1
Lost -1.5pts
Marc Leishman
is a man whose career is on the rise and we'll have a small investment this week that it takes another elevation this week. He has two runner up finishes and another top 10 to his name around Torrey Pines. He thrives around layouts where is length off the tee comes into play. With his highly impressive victory in the Nedbank at the back end of last year I fully expect Leishman to kick on and maybe notch another victory or two in the coming year. He missed the third round cut at the CareerBuilder on a tally of 8 under. That is nothing to put us off as those venues do not suit his swash buckling style. With some precipitation on the horizon this week this could suit Marc even more who showed he coould cope with some difficult conditions while he contested the Open Championship at the business end of Sunday. Surely worthy of investment at 50/1.
Marc Leishman - 0.75pts e/w @ 50/1
Lost -1.5pts