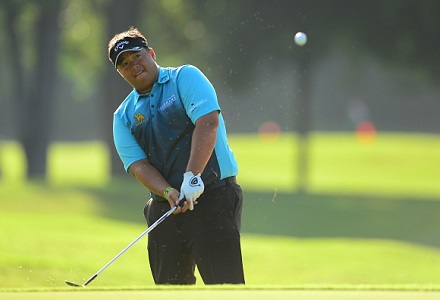 Niall Lyons picks out the best bets from Sunday's two-ball groups at Augusta.
An unexpected, but nonetheless overdue double bogey from Spieth last night up the final hole has blown the 2016 Masters wide open heading into day four. No amount of stats will ever dissuade me that Spieth's long game is not up to the standard of the rest making up the world's top five. Yesterday once again, until the 18th, it was his silky putting touch that kept him clear of the rest. While the masses were missing five footers left, right and further right, 'Golden child' was swinging the putter with an impressive tempo finding the middle of the hole with all his shorties. However, when you're long game is somewhat ragged it will eventually catch up with you, especially around Augusta.
Today we will face different conditions. The wind is finally going south and with friendly pin positions no doubt set up by the officials to make for plenty of birdies, this final day is set up to be one of the best in recent years. With only four players under par right now, expect that to double at least before the end of play. The course will be set up for a closer and Spieth will be under extreme pressure from the starting pistol. Early birdies will be plentiful on holes 1,2 and 3 and there's no doubt one of the class acrts such as Matsuyama, Johnson or Day will make a move early on. McIlroy can not be considered out of it either five shots behind. His mind will be clear going into today that he needs to shoot a 64 to contend, and who could rule it out.
For our first bet today we'll support
Kiradech Aphibarnrat
in his two ball with Danny Lee at 5.15pm. The Barnrat can hit the ball a mile and I expect he can take advantage of the early scoring conditions today. Danny Lee has got progressively worse over after 74, 79 followed his opening round of four under par. The Barnrat has taken two less shots on the par 5s so far. The par 5s will be crucial for scoring today as the course will be set up the easiest it has all week. Overall I expected Kiracdech to be slight fav here over Danny Lee so I'm prepared to have a small bet.
K.Aphibarnrat to win two ball - 1pt @ 6/5
Won 1.2pts
I've been impressed this week with amateur
Bryson DeChambeau
and I'm prepared to have a small bet on him against Brooks Koepka at 5.25pm today. Koepka has the firepower to post a low one when the conditions are perfect here today but Bryson has every chance of doing the same. He is a confident lad and a final day at Augusta should hold no problems for him. The shackles should be off in terms of top amateur as he holds a ten shot lead on Langasque. With his strange set up and clubs I admit to being a shade sceptical about the quality of his game but he has certainly proved me wrong this week. He is quite adaptable with his swing and plays golf very naturally. The 13/8 on offer for him to beat Koepka today is a shade of value.
B.DeChambeau to win two ball - 1.5pts @ 13/8
Lost -1.5pts