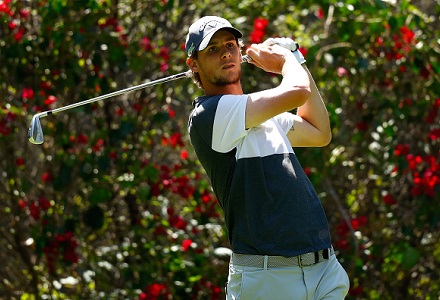 Niall Lyon's has picked out his three best bets for the Genesis Open.
Tiger watch is back on as the tour rolls onto one of the more interesting venues At Riviera in California. Riviera on the face of it certainly looks that it requires a solid long game. Big hitters have dominated this event in recent years now and the trend certainly seems to be heading the direction of those who can send the ball out further. Dustin won here impressively last year and is hard to rule out despite a disappointing final few days at Pebble last week. His long game is that dominant that it is hard to see him out of the reckoning here especially as he's only been out of the top four twice in his last eight tries here. Nevertheless despite his obvious credentials last weekend was a blip and I'm prepared to look elsewhere.
McIlroy suffered on the greens last week but this type of track certainly suits the former world number one and it'd be no surprise to me if he bounced back to a much more refined performance. These tests are where he has always excelled and I wouldn't put anyone off backing the 12/1 out there. Justin Thomas probably won't go to long before he is back in the winners circle and many may be tempted by his price this week. Personally I find him hard to pigeon hole to certain courses. Maybe a course that isn't so pigeon holed like Riviera may suit Thomas, we'll wait and see but I'm prepared to let him pass at the price.
My big decision this week was whether or not to invest in Jordan Spieth. He certainly turned a corner last week with his putting and that is just the sign you need to really consider putting him on your betting slip. Nevertheless, I don't think it was quite just good enough and I'd rather await a better opportunity to play him. His price is mighty tempting mind you, even win only on the machine.
Marc Leishman (40-1) skipped Pebble Beach and I see that as a positive as four days around Riviera can certainly be taxing on the mental side. There are very little easy holes especially as you go deep into the back 9 and his freshness might just count for something here. His results here are a shade inconsistent with his best finish coming back in 2016 in 5th place. He has never arrived here in the top 15 of the world though and is no doubt becoming a more complete golfer. He is not afraid to win and I see these battle royales on these courses as right up his alley. Australians have an excellent record in this event with many citing similarities to their courses back home. Mickelson is half his price and Casey a good 12 points shorter in the market and that seems a bit unbalanced to me.
Marc Leishman - 1.25pts e/w @ 40/1
Shot shape is always important around here and Jimmy Walker (90-1) has the ability to move the ball both ways. There is no doubt this could be an ill fated decision but stake will be low enough. He has suffered badly with illnesses over the last 12 months and although this might be a bit early to get back involved, this is a course that certainly suits. With two top5 finishes and a further 3 top 20s he certainly knows how to score around here. Buoyed by a return to form last week with a top 10 at Pebble Beach he is worth a speculative play in my book. There was little else in the way of value in the field for me this week. It isn't an easy week to narrow down selections as plenty have lively chances. I've picked out a few juicy numbers that I'd rather side on instead of the favs.
Jimmy Walker - 0.75pts e/w @ 90/1
Thomas Pieters ticks many boxes here and although it is somewhat of an obvious play I expected him to be shorter in the market this week. He won the NCAA individual title here at Riviera back in 2012 and finished 2nd to Dustin here last year on debut. Course form isn't everything obviously and although Pieters has negatives regarding the mental side of the game he certainly retains the ability to win one of these high profile events.
The price tempts me more than anything. 50/1 fading a little as I write but the Belgian is a very talented sort and given this is a fairytale course for him he must have every chance of playing well. Doubts remain about how well he can hold it together once things start going a little pear shaped but I do think one of these weeks he will spread eagle the field early doors and coast to victory.
Thomas Pieters - 1.5pts e/w @ 50/1