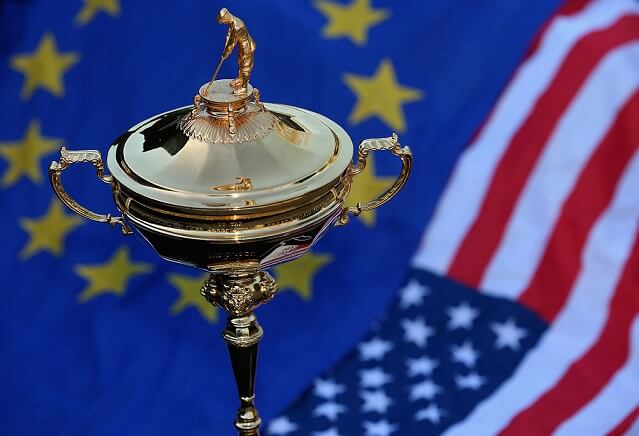 So the 2016 Ryder Cup is nearly upon us and a lot is being second guessed by pundits and tipsters alike as we try to figure out which way this match will go. It is a difficult task. Hazeltine National Golf Club in Minnesota is the host course and given a lot of rain recently it will play very long. This is a tree lined layout with plenty of hazards along the way to add to the drama which will no doubt unfold over the three days. I won't delve too much into the course, because as usual it will be set up quite easy. Plenty of birdies and excitement is what makes the Ryder Cup what it is and I expect the golf to be of the highest quality from both teams.
Let's weigh up the gaffers. Darren Clarke has a fair bit of history with the Ryder Cup and who can forget the scenes at the K Club all those years ago. It was written back then that Clarke would captain this team and the time has arrived. Personally, I am a little underwhelmed by his captaincy. He is a marmite character who I believe behind closed doors will split opinions. I'd like to hear the pillow talk between the lads to see if they really warm to him. I am doubtful. The 'Chubby Chandler' group can be seen living it up at race courses and sporting events across the world and while I'm partial to a bit of partying myself I question whether a Chandler groupee is the most professional man for the job. McGinley, although quite drab to listen to, was without doubt a professional captain whose attention to detail won the match. Clarke so far has enlisted the help of the magician Dynamo, and Rugby star Paul O'Connell. I say 'star', as a non-rugby fan I am unaware of who he is (even as an Irishman) and I wonder if the likes of Bello, Stenson and Pieters will be overly bowled over by his 'inspirational' words. Maybe I'm wrong, maybe it doesn't even matter. Clarke has a wealth of experience under his belt but I can't help but feel his character is questionable.
Davis Love seemed to galvanise the USA team back in 2012 before succumbing to a final day charge by a Europe inspired by Ian Poulter. Everything was going swimmingly until that final day when they absolutely drowned under the pressure. This time around a military like 'task force' has been implemented over the last year or so to come up with the best possible system to win the trophy. If this goes belly up, what will they do next? So much has been talked about this task force that I fear what the yanks will do next if they lose this game. It seems to me this is a must win game and I worry for them with that pressure. That being said they have a better team on paper this time around and in Dustin, Fowler, Spieth, Reed they have a proper backbone that will form an allegiance for the next 4 Ryder Cups. Phil Mickelson retains his place in the line up and for me is a total negative. Not only does he have an average Ryder record, but he seems all to willing to speak his mind whenever it holds no benefit to the team. The media might portray Phil as the All American Boy, but dig closer to the surface you can find evidence of his rudeness and financial misgivings. Tiger's presence is questionable also, I don't know what way that will go. There are a lot of things to weigh up, and most of us are guessing, and none of us know if it evens matters. It will come out with the washing.
Regarding the outright market, the match is closer than what the bookies would make you think. Europe's rookie contingent is rather large but who's to say they won't come out fighting. Europe have enjoyed the underdog tag before. Either way, I've been impressed with Team Europe's performances over the last few weeks. The question marks surrounding Wood, Willett, Fitzpatrick, Kaymer have been lifted by some solid rounds of golf. Sullivan probably remains the weakest link, and I believe he will go out with Rory on day one because of that. Across the water, having looked solid all year, question marks now surround Koepka, Zach Johnson, Walker, Mickelson as they head to Hazeltine. The 'gamble' on the yanks from around 8/11 to 4/7 and 8/15 was warranted a number of months ago, but now the match should be closer to 4/6, 13/8. That makes Europe a shade of value in the outright market, but I won't be backing them because it is a tall order. I'll happily leave the outright market alone.
The most enticing bet of the week is Danny Willett to be Top European Rookie. He looks set to play 4 games and the same can't be said for any of the other rookies. He will partner Westwood at some point or other over the first two days and they will make a tough team to beat. He has gained a wealth of experience over the last year or so and having won the Masters in impressive fashion will certainly have the hunger for this fight. I can only see Wood and Sullivan playing two matches over the first two days so that makes this bet very appealing.
Danny Willett - 1pt @ 1/1
Lost -1pts
Top European isn't an easy bet to land in this event and you need an awful lot to go for you, but Justin Rose is certainly value at almost double the price of McIlroy. Justin Rose has won 9 out 14 Ryder matches in his career and looks set to play a part in all five matches. Him and Rory may be the only ones to play five matches. Rose loves this battle and who can forget his gaze at Mickelson whenever he holed that tramliner across the 17th green at Medinah. His partnership with Stenson at Gleneagles was spectacular also although I'm not convinced that partnership will stay intact throughout this event. Stenson has had injuries plaguing him this past while and may need a rest. If he does, Rose can partner a rookie and will be tough to beat once again. With three places on offer each-way he holds every chance of returning our money at the very least. That's all the bets for now. I'll be in touch later in week with other bets should they arise.
Justin Rose - 1pt @ 1/1
Lost -1pts