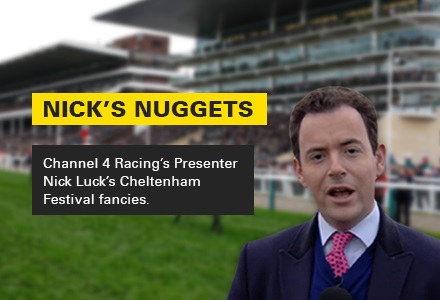 Channel 4 Racing presenter Nick Luck highlights some of his festival fancies.
Channel 4 Racing presenter Nick Luck will be writing for Oddschecker throughout the 2016 Cheltenham Festival and he kicks off his column by taking time out of from the plethora of festival preview nights to highlight some of his fancies for next week…
The most fiercely debated question of the many and varied preview nights so far has been which horse Ruby Walsh will ride in the Gold Cup.
I was on a panel at a fairly well-established evening in Waterford - where John Francome was the undoubted irreverent star of the show - during which David Casey (assistant to Willie Mullins) said that if he had a choice he would ride
Djakadam
.
The next evening, I found myself in County Wicklow where an extremely well-informed panel including Tony O'Hehir and Donn McClean were adamant that
Vautour
would be ridden by Ruby Walsh and would win the Gold Cup. All clear, then?
Fast forward to Tuesday and the Carbine Club of London, where Richard Phillips claimed to have impeccable inside information that Ruby Walsh would DEFINITELY be riding Djakadam. Frankly, who knows?
My default presumption is that, if both horses run, then Ruby will ride Vautour.
The biggest talking horse across the water is without doubt
Zabana
, who seems to be fancied by every man, woman and child in Ireland for the JLT Novices' Chase on Thursday.
That two-and-a-half-mile Grade One contest is starting to look a devilishly tricky affair because I think owner Simon Munir is running his pair in the right race.
L'Ami Serge
, if you are of a forgiving nature, remains quite an interesting runner because, for me, he is a more of a galloper than a speed horse and it's his class that's enabled him to get away with it over two miles so far in his career. When the emphasis has been on jumping at top speed he's just been found wanting a little, but travelling half a yard slower should enable him to get into a rhythm and I see him more of a three-mile horse in the making than a two miler.
When I was putting up
Garde La Victoire
(who I still fancy) at these preview evenings, it was without the knowledge that L'Ami Serge would be running in this, and also before I was hit by the tide of confidence in Zabana, but I'm going to stick to my guns with the Hobbs representative.
The horse that everybody loves to hate,
Josses Hill
, should not be underestimated in the Ryanair, and he rates a bet for me. He's a classic preview night horse insofar as it's very easy to dismiss him on account of the fact that he's not the best jumper in training, but that didn't stop him running extremely well in the Arkle last year and he's now got two excellent runs at Cheltenham Festivals on his CV, which is more than many of his rivals. Not only that, I thought he jumped a lot better at Kempton last time, even if he was a shade more deliberate than you would like. He's a very smart horse and if he gets round he is very likely to be placed, which makes him an attractive each-way proposition.
I'm warming to the idea of backing
Buveur D'air
in the Supreme on the basis that Min and Altior have taken up so much preview night oxygen, particularly Altior given how well he is reportedly working, that the disparity on price between that pair and Buveur D'air is now too big. I was really impressed with the speed he showed at Huntingdon even though he was fully entitled to win the race by miles - the way he sprinted up the run-in was accomplished in the style of a really smart horse. He's a handy horse who travels well through his races and it's not unheard of for the supposed Henderson second-string to out-perform the seemingly more fancied stable runner.
The big news story of next week is undoubtedly going to be Victoria Pendleton's participation in the Foxhunter Chase on Friday.
There was a lot of talk about whether she should be allowed to ride, but I thought this was irrelevant because, whether you like it or not, she satisfied the licensing criteria long ago. Given the fact that she was considered fit enough and competent enough by trainers who have given her references towards her Category A license, then she should be actively encouraged to ride in any race she is eligible for.
It's not totally impossible she could win the race on
Pacha Du Polder
- who is certainly classy enough and is a great jumper - but it's an unlikely outcome given there are significant doubts about the horse's stamina, particularly if the ground is on the easy side.
I'll be back on Monday evening with my take on the opening day of Cheltenham Festival.
Nick
Josses Hill - 1pt e/w @ 12/1