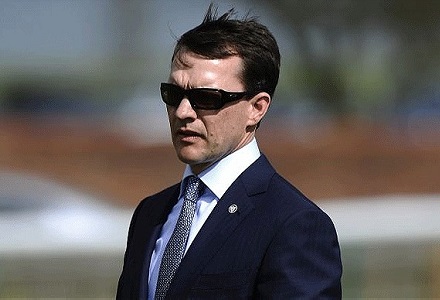 Some of the key Derby connections discuss how their charges are shaping up ahead of the Classic.
John Gosden, trainer of Wings Of Desire:

"He is unusual in what he has done - most horse have had education at two either through work or racing. But in this case, he missed it all. So to come from doing your first half-speed, swinging canter in mid-March to winning a Dante in the middle of May is unusual - slightly freakish.

"Frankie was really happy with Wings Of Desire. The horse did not really start before mid-March and Frankie was thrilled with the way he has come on mentally, which it is all about, as this place does not take any prisoners."

Frankie Dettori, jockey of Wings Of Desire:
"The Dante is the best trial and we were very pleased with the horse. Wings Of Desire is still a baby and learning so we expect him to come on again.

"Today we brought him to Epsom to get a feel of the bend and the downhill and experience the surroundings.

"I was pleased with him - he has never been a very exciting work horse and only does what he has to do."


Wings of Desire - 1pt @ 4/1
Aidan O'Brien, trainer of US Army Ranger:
"We were very happy with US Army Ranger at Chester. We knew that there was always a danger that he was going to find Chester very strange. He traveled very well during the first half of the race and is a very exciting horse with an awful lot of class.

"He should come on and learn a lot from the race. He's a very clear-winded horse and does not need a lot of work - everything is good so far.

"He is a baby and the Derby will only be his third run. He was very green at Chester. He did a piece of work this morning and everything went well."

Aidan O'Brien, trainer of Port Douglas:

"Port Douglas is a very solid horse and was giving US Army Ranger 4lb at Chester. He doesn't do a lot at home. We had one disappointment last year but he won the Beresford which is a good solid two-year-old test over a mile.

"There is a good chance that Port Douglas will go to the Derby with US Army Ranger. He is not a big horse and should handle the track.


Aidan O'Brien, trainer of Deauville:

"Deauville is a very good moving horse and likes a good bit of ground. We were very happy with him in the Dante and you could not be happier except that John's (Gosden) horse came and got him.

"We are very happy with him - he is not too big and a well-balanced horse, He is a typical Galileo - very genuine - and he should progress.

"They have another bit of work to do and all the horses are open to improvement, with US Army Ranger open to the most improvement. It will be interesting.

"I have not spoken to Ryan (Moore) about what he wants to ride but obviously he has all the information. He will make the decision.

"US Army Ranger will be the greenest of them and is a big rangy horse with a big stride. There is a good chance that Ryan will ride him but I couldn't say for definite."


US Army Ranger - 1pt @ 4/1
Sir Michael Stoute, trainer of Ulysses:
"Ulysses is really well-balanced athlete with an Epsom pedigree. We have always loved him and he ran with a lot of promise in his Newbury maiden as a two-year-old.

"He had a hiccup in January and we did not have him fully fit when he went to Leicester but needed to get moving. "But he has really pleased since then and could not have won his maiden any better than he did at Newbury. I am happy with his preparation at the moment. I think he should handle Epsom well."

Jockey Andrea Atzeni on Ulysses: "Ulysses looked very impressive when he won his maiden at Newbury and for Sir Michael to run a maiden in the Derby he must think quite a lot of him.
"He is bred to win a Derby and I am very lucky to get a ride. I will sit on him tomorrow."

Sir Miachael On Across the Stars:

"Across The Stars ran well at Lingfield where things did not go quite right for him. He is a lovely big improving horse and the owner is keen to run so he will be in the line-up. We hope for the best.
"Of the two, Ulysses is more mature and ready for it at this stage - I would certainly be very hopeful of his chance."


Ulysses - 1pt @ 8/1
Jim Bolger, trainer of Moonlight Magic:

"I rate Moonlight Magic as a good Investec Derby prospect and I would not swap him for anything else in the race. I could not be happier with him.

"He has the looks, demeanour, balance and temperament to go with his pedigree. There are no holes in this fellow.

"He is a beautifully balanced horse so hopefully he will handle Epsom well. I thought that when he won the Derrinstown, on the day he was as good a Derrinstown winner as St Jovite had been.

"It is a pretty good field for the Derby but if I can get my horse fresh and well on the day then I think he will give a very good account of himself."

Moonlight Magic - 1pt @ 12/1