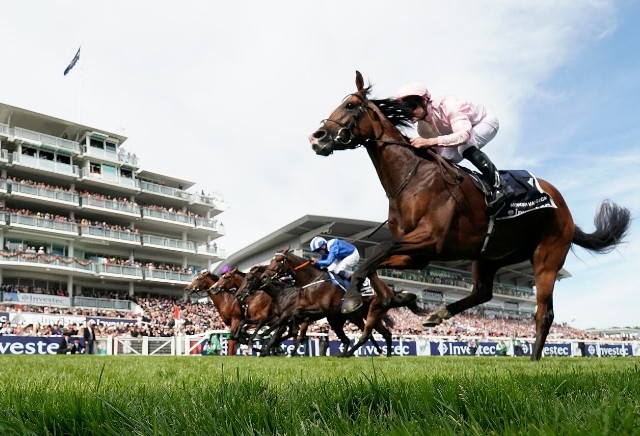 We have a look at the main Derby contenders, with a 20/1 shot that looks overpriced
Sadly, we will be missing the early part of the flat season due to coronavirus, with the 2000 and 1000 Guineas at the start of May looking in big trouble. Racing should be able to mobilise quickly behind closed doors when given the green light but what this does to the Classics, no one knows.
The Derby is due to be run on the 6th of June. The vast crowds that usually descend upon Epsom will surely not be able to this year. That leads to the question of whether or not it is feasible to run the meeting behind closed doors. Depending on the answer to that question, the BHA may look at moving the meeting back to later in the summer at a date when it is acceptable for mass gatherings. However, that might not be possible for a number of months.
Whatever the future holds, we have to be hopeful that the Derby gets the go ahead even if there is no crowd or it is run in the later summer months.
Anyway, I will be working on the premise that it is happening and will attempt to find some value for the most prestigious race on the flat.
The obvious starting point is the champion two-year-old, Pinatubo. He is the current favourite at 7/1, even though the evidence suggests he will not stay the Derby trip. I would argue the Godolphin colt would be better equipped over 6f than 12f this season. His running style hints that he will simply be too quick for the Derby. He is all about speed so making the step up to 12f, at this stage of his career, is surely a step too far. Shamardal's (his sire) progeny have a far better record over 7f – 1m2f, operating at a 17.9% strike-rate in Group races. Compared to a 9.52% strike-rate for his progeny over 1m4f in the same company.
If Pinatubo wins the 2000 Guineas, connections are likely to have a crack at the Derby and if there is no Guineas, they may well have a go anyway. Although, it is feasible he doesn't end up going for the Derby. Either way, the evidence strongly points towards Pinatubo not getting the trip so the fact he is at the top of the market creates plenty of value elsewhere in the race.
The horse who catches my eye and I believe is worth an investment is MILITARY MARCH (best price 20-1). Rather than the current favourite, this is the horse who Goldolphin have the best chance of winning the Derby with. Military March, unlike Pinatubo, is bred for the Derby trip. He is the son of 2008 Derby winner New Approach after all. His dam, Punctilious, was third in the Oaks, runner-up in the Irish Oaks and won the Ribblesdale.
Clearly, Military March will relish the 1m4f, so when he ran so well over 7f on his debut there was a reason to get excited. However, it was his run in the Autumn Stakes that was really eye-catching.
The mile race at Newmarket developed into a two-horse tussle between Military March and Al Suhail. The pair had it between themselves from two furlongs out and the latter drew upsides with the winner in the final furlong, but Military March asserted himself very impressively to win by half a length. To show such gameness at such an inexperienced age is a sought after attribute. When you look to the clock, the run only becomes more encouraging. Military March's final three furlong split was run in 37.0 seconds. Compare this to Pinatubo, who ran 35 minutes later, over a furlong less. He clocked a final three furlong split of 36.6. Military March was just 0.4 seconds slower, over a furlong further, than the Champion two-year-old, who is rated a staggering 128; a rating that has not been achieved for 25 years. (Thank you to Andy Holding for providing the sectionals).
I asked Andy for his views on Military March and he had this to say:
"Military March's speed figure is very good and his last three furlong split is only just behind Pinatubo, who raced over a furlong less, so the numbers suggest he's pretty smart. As it also looks unlikely Pinatubo will stay too much beyond a mile, it makes little sense why Military March is three times the price for the Derby."
Those Autumn Stakes numbers confirm that Military March ran to a seriously high level for a two-year-old. Moreover, the fact it was only the second run of his career makes it all the more noteworthy. The pair finished seven lengths clear of the rest of the field, including Ropey Guest (3rd) and Persia (5th) who both finished runners up in Group 3 Company on their subsequent outings, adding further weight to the brilliant performance of Military March.
Saeed bin Suroor has said that he sees Military March as a Derby horse, but they will go to the 2000 Guineas first (if it happens). There were thoughts about sending him to Dubai over the winter, but that didn't materialise, which is pleasing as he looks cut out for the race at Epsom.
Aidan O'Brien, as always, has a number of contenders, with Mogul (12/1) being his main market principle at this stage. I am happy to put a line through the Vertum Futurity Trophy Stakes due to the obvious reason it was on the all-weather at Newcastle.
Let's compare him with another O'Brien runner, Innisfree (25/1). The current price difference doesn't reflect their chances. Ignoring the Newcastle run, the last two runs of the aforementioned pair suggests two horses running to a similar level of form. Both have taken care of Shekhem; Innisfree doing so on two occasions, albeit only by a neck each time. However, at Galway in July they were racing over 7f. The way Innisfree responded to pressure and kept on half a furlong out on just his second run out was pleasing, suggesting a step up in trip would bring out improvement.
He did indeed step up to a mile at the end of September at the Curragh where the pair faced off again. Shekhem attempted to make all but was headed late on by Donnacha O'Brien and Innisfree. It was another performance that showed the maturity of the two-year-old, battling gamely near the line. The going that day was heavy which won't have seen Innisfree to best effect, another reason why I think the bare margin of victory by a neck each time is better than it looks on paper.
For both the above reasons, I think you can upgrade Innisfree slightly. Mogul won at Leopardstown in September cosily enough, but you can pick holes in the form. The third that day, Agitare, stayed on strongly but was then beaten by two horses now rated 92 and 88 on his subsequent run. The eye-watering $4,674,201 spent on the son of Galileo coupled with him being a full brother to Japan (3rd in last year's Derby) are likely to have played a part in his price for the Derby rather than his bare form as a two-year-old. I am not writing Mogul off by any stretch of the imagination but based on what the pair have done so far, I would have them closer in price than they currently are.
As mentioned earlier, I am not interested in the Vertem Futurity Trophy Stakes from a form point of view, but nevertheless it still has a part to play in the current makeup of the Derby market. The winner, Kameko, is a 14/1 shot. I'd have concerns over whether he will stay the Derby trip and I am not prepared to take his victory at Newcastle literally, so on those grounds I will pass him by.
Brentford Hope (33/1) is an interesting contender. He was brilliant on debut but it is hard to weigh up the horse from just one run. Jamie Spencer didn't have to draw for his whip during the 10f maiden as Richard Hughes' runner coasted home by five lengths. 1m4f should be no problem for Brentford Hope but I wouldn't be in a hurry to back him now. I will be watching closely when he reappears to see how he has developed as a three-year-old. It's also worth noting that he is currently only entered for the Irish Derby at the time of writing.
The final horse I shall mention is Waldkonig (20/1). He was visually very impressive on debut at Wolves in December. He accelerated past his rivals tremendously that day. He has a very high knee action and a frame he is yet to fill into. This leads me to believe the Derby may be too soon for John Gosden's colt, I can't see him being rushed into anything. Being by Kingman, I'd be slightly concerned over the Derby trip too; he has only ever had 23 runners over 12f. Nonetheless, he is an exciting prospect for the future, but not one I am convinced will be ready for the Derby if it goes ahead on time.
There is the risk element attached that we still don't know how these horses have developed from two to three years of age. We are also dealing with the issue of the 2000 Guineas potentially not being run, which has vast implications on the Derby. A lot is still up in the air over what the flat season schedule will look like but one thing is for sure, Military March looks every bit a Derby horse. When we will see him on the racetrack next, I do not know but if he turns up to Epsom he must have a great chance.