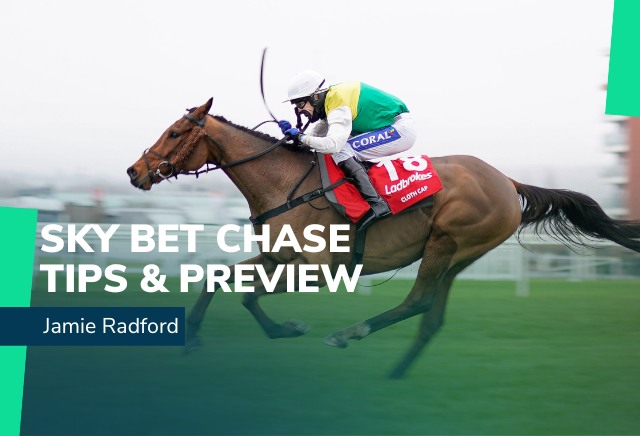 Jamie Radford takes us through the leading runners for the Sky Bet Chase 2023 at Doncaster before giving his prediction for the Listed National Hunt race.
Sky Bet Chase - Winner
Sky Bet Chase 2023 Runners
Ga Law - 3/1
After Ga Law got injured in his novice season, Jamie Snowden told them not to fret because he'd win the 2022 Paddy Power Gold Cup. There are many plotters, planners, schemers and hopers in the jumps game but to go an execute a long term plan like that with injury involved is a training performance worthy of praise.
Ga Law was an exciting novice too winning three races including the Grade 2 Rising Stars at Wincanton. Indeed his two defeats came when 3rd in the Grade 1 Henry VIII, in front of Eldorado Allen but behind Hitman and Allmankind, and 2nd in the Grade 2 Pendil.
All of these performances conspired to give him a novice rating of 150, a rating which is worthy of a place in any graded line up. It was a rating too, which was dropped 8lb to 142 for his 603 day layoff, something which connections duly took advantage of in November.
After an encouraging 3rd in Old Roan, Ga Law fulfilled Snowden's promise in winning the Paddy Power Gold Cup beating French Dynamite, Midnight River and Il Ridoto. It had all the apparatus of a vintage renewal with the first four home all young progressive horses, aged; six, seven, seven and five.
The form's already been boosted too with the 2nd placed French Dynamite subsequently 5th in the Grade 1 Savills and 2nd in the Grade 2 Hotel Chase behind Fakir D'oudairies and the 3rd placed Midnight River winning the Paddy Power New Year's Day Handicap Chase at Cheltenham.
When watching the race back, Ga Law was tight into a few fences and lost his pitch before the 13th, having to be ridden consistently to go the gallop. This combined with his manner of victory, staying on powerfully up the hill, all serve as a relic of evidence that Ga Law will relish the step up to 3 miles.
While his mark of 150 nor his step up in trip seem to pose any problem, what does is his race positioning. On this flat track, on quick ground it has often paid to be ridden very handily and equally getting into a rhythm of jumping up front.
Moreover, his weight of 12 stone won't make it easy to maintain his racing position, especially if mistakes creep in and I worry he may be caught too far back. Whilst Ga Law, on form, has a favourites chance, this race might not be suited to him and I think he's opposable at the prices.
Tea For Free - 11/2
If someone had told Charlie Longsdon at this time last year that his 107 rated hurdler would be the 6/1 2nd favourite for the Sky Bet Chase, I think he'd ask you what was in your morning coffee. And yet, here we stand, with his son of Court Cave, Tea For Free, improving 31lb's to a rating of 138 and winning all four of his starts over fences.
Being an Irish Point winner, perhaps his improvement for fences could be forecasted, but one thing that is surprising is how well he jumps. Whilst it's always tempting to find "graded" horses in handicaps that are apparently a stone "well-in", having a horse that is improving, uncomplicated, jumps well and, what is more, races prominently is worth its weight in gold.
Although his form, winning Class 4 and Class 3 Handicap chases and beating 120 rated horses is undoubtedly well below that of others in the field, his straightforwardness and jumping should hold him in good stead and who knows how much further he can improve. Nevertheless, for the purposes of this article I have to admit he has not ensnared a new bearer in me and his price looks far too short on what he has done.
Cap Du Nord - 13/2
Cap Du Nord has become a regular in these staying handicap chases, and having come 3rd in the last two renewals of this race, he looks to finally get his head in front this year. Although 3rd last year, he was beaten almost 20 lengths, but that represented a return to form, having been beaten almost 35 lengths in his prep run.
Yet this year he's had four runs and, discounting his run at Cheltenham on New Year's Day where his usual cheekpieces were left off, he comes here in much better form, including a 3rd behind Frodon in the Badger Beer. Indeed, his cheekpieces, which were also left off in this race last year, return on Saturday and the effect they had last year in Cap Du Nord's victory in the Coral Trophy were reformatory.
His jumping, which can usually be sporadic and slow was slick and fluent and he travelled with far more enthusiasm through his race. It's interesting he's had far more prep runs and gets the cheekpieces on this year and being trained by Christian Williams, who's quickly becoming known for picking up these staying handicap chases, he looks sure to be involved.
However, whether he is a bet for win purposes remains a different prospect. His hold up style and patchy jumping means that soft ground, something which slows the pace of the race down making jumping easier whilst also tiring up front runners making his hold up style more effective, is something he relishes.
However, as we saw in this race last year, he may get caught too far back on good ground and on this flat track and one worries that although he may fare best of those coming off the pace, he may be too far back to get his head in front. Nevertheless his different prep and inclusion of cheekpieces offer hope.
Mister Coffey - 9/1
Nicky Henderson's Mister Coffey has long promised to win a big handicap both over hurdles and fences. Over hurdles he was 7th in a Betfair and 4th in the Pertemps at the Aintree Festival off marks of 138 and 137.
Yet, for such a big horse, it wasn't likely he'd win speedy handicap hurdles over shorter and it always seemed likely he'd reap dividends when stepped up in trip. Yet his class is outlined in his performances over shorter, both aforementioned over hurdles but also his form over fences which include a 2nd to L'Homme Presse in the Grade 1 Scilly Isles chase.
Afterwards he was belatedly stepped up in trip, running as a novice in the Kim Muir at the Cheltenham Festival. Here, he cruised through the race, looking like the winner throughout yet he seemingly paid the price for being hampered and making a mistake at the last as he went down fighting in 2nd.
Kept to three miles, he repapered at Chepstow over Christmas, with De Boinville deploying a change of tactics in front running. Again, he tanked through his race before succumbing to a race fit, progressive rival.
A theme has cropped up now with four 2nd's in his chases, yet it's dangerous to pigeonhole him into a horse that doesn't finish his races out because there seemingly has been excuses each time.
He won his bumper on good ground, and his form over shorter should enable him to go the gallop on this quick ground on a flat track. Only 3lb higher than his 2nd in the Kim Muir, he looks to have an excellent chance of finally landing a big pot especially if the front running tactics are retained.
Java Point - 14/1
Tom George's Java Point has long hinted a step up to three miles would be his beckon call since his hurdle days. After winning over 2m5f at Warwick he was seen as a staying on 5th behind smart hurdler Proschema at Cheltenham's April meeting in 2021.
What was surprising therefore, was that they started him over 2 miles in his novice chasing campaign where his jumping with the pace too quick, was put under pressure and unsurprisingly novicey. After a 3rd on Cheltenham Trials Day in the Timeform Handicap Chase where he was badly outpaced behind subsequent Plate 2nd Imperial Alcazar they finally gave him a go at the maximum distance.
This decision was immediately rewarded as he won 2 handicap chases at the end of the year with his jumping far slicker at the slower pace. He reappeared with a 3rd behind Zanza (Demachine 2nd, Cap Du Nord 5th) at Newbury in November before running full of promise at Cheltenham on New Year's Day.
Here, he took a wider route than most over the extended 3m 2f and jumped beautifully to challenge for the lead before the winner, revitalised in first time cheekpieces, skipped away. He races off the same mark, 133, on Saturday and his maiden hurdle win at Warwick was on good ground as was his good 3rd in the Timeform on Trials day last year.
How much improvement remains is unknown and one wonders whether he wants a bit more of a stamina test than three miles on good ground but his prominent racing style and excellent jumping will hold him in good stead.
Cloth Cap - 10/1
Tumbling down to a mark of 138, only 2lb higher than his 10 length Hennessy romp in 2020, Cloth Cap, although regressive, looks a very tempting option. He paid the price for that demolition, subsequently running off marks in the 150's and up to last year running off a mark as high as 147.
Now entering a mark in the 130's for the first time in over two years, he looked much better in the Becher Chase over 3m 2f before weakening up the run in to finish 6th. What is more is that he gets his beloved "good ground".
Indeed, his record on three mile chases on good ground reads 413311 which one third being in the Scottish National and one 3rd being and with the other 4th and 3rd being on reappearance as prep runs for his runs in the Hennessy.
He only has one way to run and that is from the front which, as I'm sure you've noticed, has been a common theme in this write up, with Doncaster rewarding this tactic. Although now 11 the last four winners of this race have been aged 10+ and he looked like returning to form last time out.
The only thing to note is the way he's finished his races out. Since he was pulled up in the Grand National, his five completed starts all contained 'weakened" in the description. This could be explained by his high mark or indeed by his front running style, if he's not going to win he will therefore weaken.
Yet the way he has dropped back through the field has been worrying at times and is a legitimate concern. Nevertheless, on a mark 2lb higher than his Hennessy win, on good ground and on a track that suits front runners, everything is in his favour for a big run.
Demachine - 12/1
Demachine had an impressive novice chasing campaign winning two handicap chases in a row before a good 2nd to Remastered in the Reynoldstown at Ascot. He was understandably well fancied for the Hennessy as a 2nd season chaser off 142 and ran with credit in 5th weakening in the final furlong over the 3m 2f trip.
After losing his way a bit, he benefited from a second wind surgery to win back in trip over 2m4f on good ground at Uttoxeter. He reappeared, as mentioned, in the Newbury race behind Zanza, finishing in front of Java Point and Cap Du Nord, and finished midfield on soft ground at Cheltenham on New Year's Day.
The return to quick ground looks in his favour and Kerry Lee's booking of 5ib claimer Caoilin Quinn means he effectively runs off 133, a mark 3lb below his win at Uttoxeter on good ground in May. He's seemingly his mark of 140 too high when tackling these handicap chases so that will certainly help, as will the quicker ground.
Cooper's Cross - 20/1
Cooper's Cross taken his form to new levels this season, winning at Carlisle before smart placed efforts behind Brave Seasca and Minella Drama both over 2 ½ miles. He arguably could have won the latter, if not for his sloppy jumping.
Indeed, this is something which Stuart Coltherd has looked to correct with the application of first time cheekpieces on Saturday. He's also unexposed at this trip, having raced over it only once when his jumping again let him down. If the first time headgear works then he does look up to improving from his mark of 128 but it is a big "if".
Windsor Avenue - 20/1
Last year's winner Windsor Avenue returns and he looks to emulate Ziga Boy who was the last back to back winner of this race. He was transformed by the application of first time blinkers in the race last year and he showed us this year he's in equally good form with his 4th in the Rehearsal Chase when behind L'Homme Presse and previous favourite for this race Into Overdrive.
Indeed, he gave Into Overdrive 6lb that day and was only five lengths behind and that rival was previously priced up at 5/1 for this. One negative though is Ellison's charge's hit and miss profile. His form figures in the last two years read; 2P1PPP4P.
Whilst the 2nd, 1st and 4th were all pieces of form strong enough to give him a single figure price for this race it cannot be overlooked he's been pulled up in six of his last nine runs. The blinkers which helped his so much last year are left off, although they were also left off for his Rehearsal 4th. He has the ability to win this again but with his patchy profile it's very much at your own peril.
Sky Bet Chase 2023 Tips & Prediction
A case can be made for so many here including last year's winner if he can return to form, however perhaps CLOTH CAP can bounce back to land one last big prize for connections.
Brian Hughes doesn't strike as the usual front running jockey but his form on good ground cannot be overlooked and he drops to a mark only 2lb above his Hennessy win. He hinted at a return to form in the Becher and he must go close at double figure odds. Mister Coffey is next best.