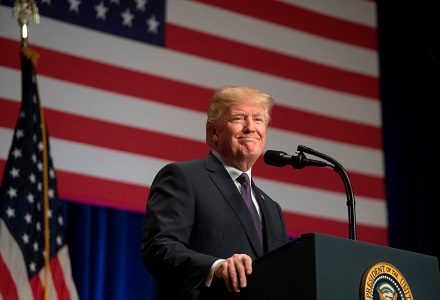 Leighton did it last year with Emmanuel Macron and he's hoping to do the same with the US President market
It is a year since I wrote my 2017 New Year article in which I advised a little-known outsider called Emmanuel Macron at long of 6/1 to be the next President of France. At the time he was heavily trailing both establishment favourite Francois Fillon and nationalist firebrand Marine Le Pen in the opinion polls. As much as anything, it was Macron's relative youth and inexperience that seemed to count against him. To win at the age of 39 would make him even younger than Louis-Napoleon Bonaparte, who took office in 1808 at the age of 40. In contrast, there is something of a trend among modern leaders for age to win out over youth.
Donald Trump was 70 years old when he won the votes of the US electoral college, while his predecessor, Barack Obama, had been 47 when elected president. Theresa May, at 59, was 16 years older than her predecessor, David Cameron, when entering Downing Street. It's a trend that brings to mind the response of Ronald Reagan when the 73-year old was asked about his age during a presidential debate against his Democrat opponent, Walter Mondale. His deadpanned zinger, delivered with impeccable timing, goes down in debate history to match some of the best. "I will not make age an issue in this campaign. I will not exploit, for political purposes, my opponent's youth and inexperience." In a moment it took the age issue off the table.
Which brings us to the subject of the candidate who will be nominated to face Trump in 2020, assuming he is still in office, or presumably to face Vice-President Pence if he is not.
Two of the current frontrunners would be 79 and 77 years of age respectively. They are Senator Bernie Sanders of Vermont and former Vice-President Joe Biden. Sanders is best-known as the avowed democratic socialist who lost out to Hillary Clinton for the Democratic nomination in 2016, while Biden is well-known to have dearly wanted to run for the presidency before a personal family tragedy intervened.
In both cases, the question is: What if? What if Bernie had faced Trump instead of Hillary? Would he have won? What about Joe? Would he have carried the extra working-class votes in the key pivotal states in the Electoral College, such as Pennsylvania. Then there is Senator Elizabeth Warren, of Massachusetts, a political progressive and outspoken scourge of Donald Trump, who is frequently cited as a strong candidate. She would be 71 at the time of the next election.
The Democrats have a history, however, of nominating relatively young new talent rather than rewarding seniority. John F. Kennedy, Jimmy Carter, Bill Clinton, Barack Obama, instantly spring to mind. Hillary Clinton (who cannot be totally ruled out as a contender for 2020) is somewhat of an exception rather than the rule. If this applies in 2020, we are looking, according to current prognostications, at the likes of the new Senator for California, Kamala Harris, who is currently 53 years of age and Kirsten Gillibrand who replaced Hillary Clinton as Senator for New York. She is 51. Others in the frame are New Jersey Senator Cory Booker, who is 48. In the middle age groups come Governor Andrew Cuomo of New York (60), Senator Amy Klobuchar of Minnesota (57) and Senator Tim Kaine, of Virginia, the Vice-Presidential nominee for the Democrats in 2016.
There is currently pretty much nobody else on the radar to run for the Democrats in 2020 bar Facebook entrepreneur, Mark Zuckerberg, who would only just be old enough to meet the constitutional requirement of being at least 35 years of age to take office as president and Michelle Obama, the former first lady, who is, at 53, the same age as Senator Harris. Of these, the political prediction market, PredictIt, gives only Sanders, Gillibrand, Harris, Warren, Biden and Booker more than a 10 per chance of being the eventual nominee of the Democrats, in listed order of favouritism. At best available prices, Bernie Sanders at 10/1 is a very tempting price, as is Kirsten Gillibrand at 20/1, Joe Biden at 20/1 and Cory Booker at 20/1. The current best prices about Senators Harris and Warren are slightly better than fair, but not enough given that the potential payout is some time down the line.
Of the four alternatives listed, the best value is in my opinion, the 20/1 on offer about the 53-year-old Senator for New York, Kirsten Gillibrand. The 40/1 available about her winning the keys to the White House is even better. Win or lose, they look to be great value bets to kick off the political year.
Kirsten Gillibrand to be the next Democrat Nominee for US President - 1pt @ 20/1
Kirsten Gillibrand to win the next US presidential election - 1pt @ 40/1