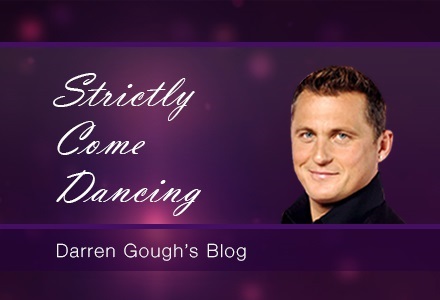 Darren Gough reflects on the latest round of action from the BBC's ballroom.
The competition is really starting to take shape now with Jay, Helen, Peter, Kellie and Georgia looking the outstanding dancers. One of that group will be crowned champion.
I felt a bit sorry for
Georgia
on Saturday. You tend to get underscored by a couple of points when you are on first, no matter who you are, because if everyone who comes on after is better than you, it becomes a high scoring night. I thought she deserved more than 31 for that dance, she was bubbly as always, there were loads of steps in it and it was a cracking performance all round.
I thought
Helen
was overscored to be honest. I didn't really like her routine. She wasn't bad but Kellie's was a much better dance and I was very surprised that they got the same score.
I'm being harsh on Helen because she's so good, but I think there were mistakes in her dance.
I felt
Peter Andre
was overscored too. His performance was shocking to be honest. He walked through a lot of it and didn't capture the mood of the dance at all.
Jay was the best dancer on the night for me yet he only scored 33. He was better than Helen George by far so I thought it was very surprising the judges scored him two points less than her.
He remains for me the most likely winner but, as I said last week,
Kellie
and
Georgia
are big dangers.
I'll give credit where it's due to
Carol
, this was her best week, without doubt. However, her dance was still littered with mistakes from start to finish. It looks like she's improving but she has a dreaded Latin dance to come, which might be her downfall. She is always going to be better at ballroom dances so they are her best chance of staying in the competition.
Anita
was very good, she caught the mood and style of the dance, performed some good kicks and holds. She's safe for a good few weeks yet and I think she's the best of the outsiders.
Kirsty's
dance didn't start well, the walk down the stairs was about as awkward as it comes, it was just a way of wasting 20 seconds of dancing, but I don't know why she did it because once she started to dance I thought she was brilliant, it was an impressive performance.
There can't be any doubt that it was her best dance so far and I like the contestants that haven't danced before, who show gradual improvement, I was pleased for her.
Jamelia
made a few mistakes, especially when she comes out of spins and holds - she always looks uncomfortable. However, she'll have a Latin dance, which suits her, so I don't expect her to be leaving the competition this week either.
Katie
deserved to be down at the bottom. There were loads of mistakes, she looked off balance every time and I don't think she's as good as some people think – she was all over the shop at times on Saturday.
However, I think Katie is doing a Paso Doble next week which will help her chances of staying in the competition.
Jeremy
did a waltz which is an easy dance for me but I thought it was shocking, easily the worst dance of the night and he didn't even look like he was enjoying it. I thought he would have done better but his popularity is keeping him in the competition at the moment.
Kellie Bright to win Strictly Come Dancing - 1pt @ 10/1