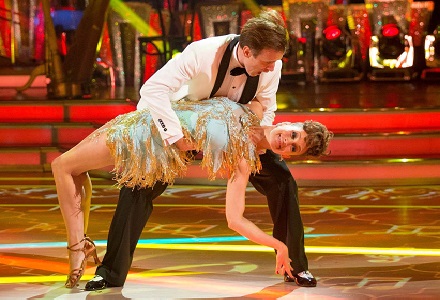 At last Carol has gone, thank the stars.

She did an American smooth and yet again walked through most of it, but at least she looked like she was enjoying herself. Carol had a great journey and did remarkably well to get this far but she deserved to go given she was clearly the worst dancer left in the competition.

Helen did a rumba and I thought she did an excellent job of getting the personality and story of the dance across. She probably deserved more than the 31pts she got (finished 6th place).

Jeremy Vine's tango which was fine but he started on a horse which I didn't get at all. As usual he made me laugh, danced it well and I'd go as far as to say that he was up there as one of his best dances of the night! He only picked up 21pts though, which tells me the judges know who they want at the bottom now, and they made it work this week with Carol and Jeremy. Jeremey's huge public support shows no sign of abating though.

The Charleston is a dance that's a head-turner, the crowd love watching it - especially those watching on TV and the judges love the personality of the dance. I thought this was Peter's best performance of the series and the judges clearly agreed as his 38pt score was enough to put him at the top of the leaderboard for the first time since week one.

The Viennese Waltz can be hard to master as it involves lots of turns, spins and clever footwork.

The judges got Jamelia's score just about right this week as this was one of her best performances. Not finishing in bottom two for the dance-off will give her a huge boost as she just might be winning over the public. She needs to perform to her best every week if she is going to survive from now on though.

Jay did the Argentine Tango which is a great dance to do, but let's be honest, Aliona did most of the dancing. It wasn't Jay's worst performance but it was some way short of his best and yet again he was overscored with 34pts (joint second on the night).

Anton is a master at the quickstep and his dance with Katie had the potential to be quality if she was good enough to dance it, but in the end it was full of mistakes and Anton dragged her around the dance floor for the most part. She has now become a regular in the bottom half of the table and really needs to up her game if she is going to survive much longer. The 9/1 about her leaving this weekend look quite tasty.

Anita did a very fast jive which requires a good level of dance skills – which she has. She showed excellent footwork with sharp kicks, and is one of those that just keeps on improving despite having impressed in the early shows.

The biggest shock of the night was, without doubt, Kellie's presence in the bottom two - how on earth did that happen?

I thought Kellie did a lovely waltz and she finished Saturday's show on 32pts and in 5th place, so it was incredible that she was in the bottom two in the public vote. Either they didn't like it, which I find hard to believe or they thought she was safe and so didn't feel the need to vote.

Georgia did a samba which, as I've said before, is a very hard dance to master. Getting the footwork to match the bounce of the tune requires a lot of skill and celebrities often dread this dance, but Georgia was awesome. She just keeps getting better and better, and in my eyes is the most likely danger to Jay and Peter.

The right person went last week and this weekend should spell the end for either Katie or Jeremy, but if Jamelia doesn't perform, she'll be in the bottom two.


Katie Derham next contestant to leave - 1pt @ 9/1