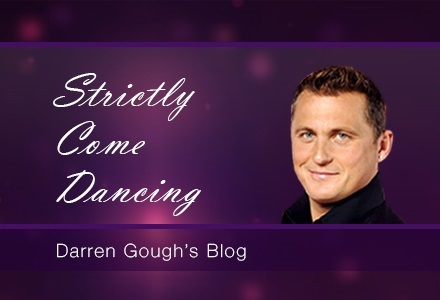 Just five dancers remain in Strictly Come Dancing 2015 and it's looking more and more likely that Jay will be crowned champion. Georgia has been my fancy for a while now but, despite the fact that she has been the best dancer on the show in recent weeks, it was hugely disappointing to see her in the dance-off last weekend (despite getting the second highest score of the night). Maybe the public thought she was safe and didn't vote?
Helen fell through the trap door last weekend but for me she is a serious loss to the show because she was still one of the best dancers left. I always had my doubts about her to connect with the public and that is what ultimately cost her.
Craig makes me laugh though, he told Helen and Georgia 'It wasn't the judges that put you in the bottom two.' Sorry Craig, yes it was. You scored Helen the second worse dance of the night!
It's getting silly now, I've got nothing against Katie and Anton, but you want the best dancers in the competition and Helen was clearly a class apart from Katie.
Georgia
started the night with a foxtrot and what an amazing start it was. Her dance was full of joy, elegance and the footwork was first class – which, to be fair, I expect from her every time she comes out onto the dance floor. You knew she was good when old Len came out with his old chestnut 'a couple of heel leads' which didn't half make me laugh! Going first went against Georgia though, she scored 36pt but, given the difficulty of that dance, I thought her score was 2pt short of what it should have been.
Click here for all the best TV and Specials odds
Anita
, as always, was excellent. She danced on her own for much of the routine, which showed how good she is, to have the confidence to do that. I thought it was sexy and everything the Argentine Tango was supposed to deliver, she delivered it. The song choice probably didn't do the routine any justice as compared to most Argentine Tango's on the show, she had to move around the floor a lot more to keep up with the song choice. I thought 31pt was a disgraceful score to be honest. Six from Craig was simply embarrassing and her dance was worth at least 35pt.
Kellie's
Viennese Waltz had wonderful shape in hold and she even put a feckle into the routine which is one of Len's favourite steps as it's so difficult to do. There was great story telling throughout the dance, which Kellie does so well, and it was a really enjoyable dance to watch.
The rumba is a hard dance to pull off for the male but
Jay
did a good job, although he wasn't as good as the girls on the night. Getting the arms right is the hardest part of that dance for a male and I thought he did it as well as anyone I've seen. Tess made sure she got in 'last male left in the competition,' which was so predictable!
However, Jay's dance wasn't as good as the girls so it was pretty astonishing that he was awarded 39pt. Are you having a laugh? Was it 3pt better than Kellie and Georgia, and 8pt better than Anita? Of course it wasn't.
Katie's
foxtrot had such a slow start that 30 seconds was wasted while she was on the steps playing with her hair. Once se got going she danced very well until Anton started dragging her around again as she started falling behind. I just wish he wouldn't do this as some steps are rushed and it doesn't do her any favours. Overall I thought it was a decent performance but it's so obvious she's the worse dancer left in the competition and there was simply no reason to award her 35pt. To score her 4pt better than Anita was a joke.
It's going to be a lady going next week, but which one? For me it should be Katie but popularity dictates it is more likely to be Kellie or Anita.
Kellie to leave the show next - 1pt @ 2.25