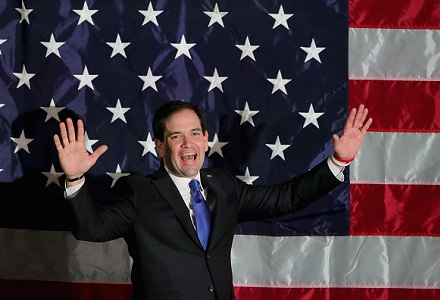 There is a memorable scene in the original Stepford Wives movie in which one of the main characters suffers a circuitry meltdown, causing her to repeat the same pre-programmed phrase over and over again, and is thus revealed to be a robot. Confronted by a vigorous prosecution of his candidacy by his rival for the Republican nomination, Governor Chris Christie of New Jersey, in last Saturday's primetime debate, Senator Marco Rubio of Florida, the frontrunner since snatching the bronze medal in the Iowa caucuses earlier in the week, displayed a similar malfunction. In his case, he started repeating over and over again the same scripted attack on President Obama, almost verbatim.
It led him later to be compared to a replicant from Blade Runner, indistinguishable on casual inspection from a regular human, but chillingly different. Every phrase he has uttered since has been minutely scrutinised for signs that the malfunction has returned. But would it matter to the voters of New Hampshire? After all, Senator Lloyd Bentsen, running for Vice President in 1988, famously demolished the hapless Dan Quayle, but it did nothing to stop the latter going on to become George H.W. Bush's VP in the subsequent election.
A glance to the betting markets suggested that it would make a difference, but not enough of a difference to shake the Florida Senator out of the frontrunner slot to be the Republican nominee, and also favourite to finish runner-up to Donald Trump in New Hampshire. In a way, it might seem strange that he was such a firm favourite for the nomination and for the best-of the non-Donalds in New Hampshire in the first place. After all, it was Trump who was hot favourite for the nomination before the Iowa caucuses, and he took Silver while Rubio only took Bronze.
The answer, of course, can be found in a little thing called the expectations game. If you can deflate expectations and come third, that is somehow seen as better than attracting high expectations and coming second. It doesn't do much for you in the Olympics, or in real life, but it matters a lot in politics.
And so to a snowclad New Hampshire on a crisp Tuesday morning this week. As the polls opened, Donald Trump was a best priced 5/1 on favourite to win New Hampshire, followed in a solid second place in the betting by Marco Rubio, with John Kasich, the Ohio Governor, a distant third. To win the Republican nomination, Rubio was still a solid best-priced 11/8 favourite, followed by Trump on 23/10, Cruz at 32/5 and Bush 12/1. Kasich and Christie led the tail, on 40/1 and 50/1 respectively. For the Democrats, 50/1 on was as good as you could get for Sanders to win the Primary, though Clinton was running at 5/1 on for the nomination.
When the results shook out, it was clear that Senator Bernie Sanders of Vermont had performed at least as well as his odds implied, as did Donald Trump on the Republican side. The big story of the night, though, was the expectations-busting performance of John Kasich and the poor fifth place finish of the third-placed so-called 'winner' of Iowa, Marco Rubio.
And how did all this shake out in the morning-after betting? On the Democratic side, Secretary Clinton was still trading at a best-priced 4/1 on for the nomination. Among the Republican field, Trump was restored to favouritism, at a best-priced 11/8, according to Oddschecker, with Rubio at 4/1, Cruz at 9/2, and Bush at a best-priced 34/5. Kasich at 27/1 was the only other candidate shorter than 100/1.
Is there any value here? Some things to think about. The Republicans have a track record of eventually nominating someone who has very deep pockets, or very deep-pocketed supporters, is something of an establishment figure, and has a good chance of winning the general election. In a normal year that would mean Bush, otherwise Rubio. In terms of a betting strategy, we also need to think about the expectations game. Who has the most upside and downside in this game? Before New Hampshire, Jeb Bush ticked the value box, and he just might still. That's what my instinct tells me, and a tickle at the 34/5 is tempting. At the range of odds quoted above, however, the dispassionate android in me would, if forced to choose one, take the 4/1 about
Senator Rubio
, and just hope that the circuitry can hold up till Wednesday, November 9th, the day after the general election polls close.
Follow Leighton on Twitter
@leightonvw
Marco Rubio - 1pt @ 4/1