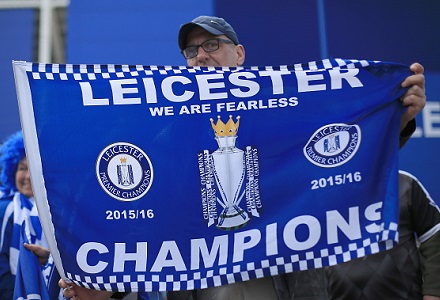 It's difficult to believe after their coronation as Premier League champions was confirmed after Chelsea and Spurs played out a draw but Leicester were a massive 5000/1 to win the Premier League before the season kicked off.

According to various bookmakers in the UK, there were a lot of ludicrous-sounding events more likely to happen than Leicester's triumph so we look at the top seven.

David Moyes to be an X Factor judge: 2500/1
One such outcome was David Moyes joining Simon Cowell on the judging panel of X Factor. The former Everton and Manchester United boss is out of work at the moment and the bookies had his odds on becoming an X Factor judge at 2500/1.

Arsenal to sack Arsene Wenger and install Piers Morgan as boss: 2500/1
After leading the opposition against Wenger on Twitter, bookies had the new presenter of Good Morning Britain's odds of becoming the next Arsenal manager at 2500/1.

David Cameron to replace Tim Sherwood as Aston Villa manager: 2500/1
Though not known for his expertise in the football world, the current British Prime Minister's odds of becoming the next Aston Villa manager after Tim Sherwood at the same price of 2500/1.

Hugh Hefner to admit he's a virgin: 1000/1
Who knows what happens behind closed doors at the Playboy Mansion but this hard to believe scenario had comparatively modest odds of 1000/1.

David Beckham to become Man City manager: 750/1
Everyone knows David Beckham's commitments to a new MLS club in Miami and his various commercial deals. His price to juggle these things as well as becoming the next Man City boss was 750/1.

Simon Cowell to be next Prime Minister: 500/1
Known for his uncompromising and tough stance as a judge on his shows The X Factor and Britain's Got Talent, his price to be the next Prime Minister was 500/1.

Andy Murray to name his first born Novak: 500/1
Andy Murray has had a great and sometimes fierce rivalry with World number one Novak Djokovic for the past few years. His price to name his first born son Novak in strange tribute was 500/1.


Leicester City - 1pt @ 40/1