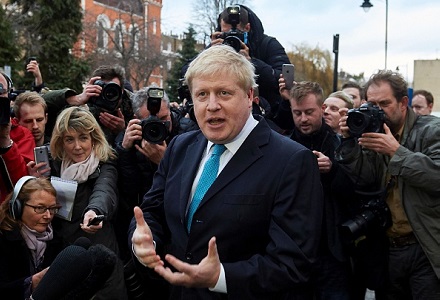 The bookies have a market for almost everything in British politics, not just the EU Referendum. Whether it's the next Prime Minister or who will resign, there is a favourite for every possible outcome, so what would Britain look like if all of those favourites came in?

Well this strange odds-based version of Britain starts fairly normally with the UK voting to remain part of the European Union, despite a powerful campaign that proves very positive for Boris Johnson's career.

It's not entirely clear why but David Cameron quickly grows bored of being PM and resigns before the end of 2016, handing over the reigns to the ever more popular Boris without any election taking place at all. Boris Johnson battles Labour leader Jeremy Corbyn in parliament over healthcare and union powers, but the tenacious Corbyn will remain as head of the opposition for some years to come.

On a side note, Germany will win against Argentina in the 2018 World Cup final, with very little difficulty.

Boris and his arch nemesis Jeremy Corbyn will meet for the last time at the 2020 General Election which Johnson comfortably wins, leading the Conservative Party to power with a clear majority. After a budding friendship that began back in the 2016 EU Referendum campaign madness, the Prime Minister Boris Johnson makes Michael Gove his Chancellor of the Exchequer. He quickly sees to it that George Osbourne is dispatched to the back benches as his only surviving rival from the Cameron dynasty.

Embarrassed by a catastrophic loss at the 2020 General Election, Jeremy Corbyn steps down in favour of Dan Jarvis. He retires at 71 and spends most weekends enjoying his team Arsenal play at the Emirates Stadium, probably still under the management of Arsene Wenger.