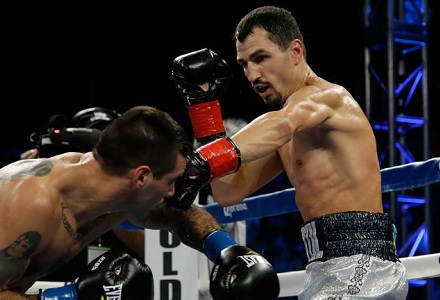 It's set to be the biggest clash of the weekend and this Sunday live from Las Vegas, Terrance Crawford and Ukraine's Viktor Postol go head to head to unify the WBO and WBC light welterweight Titles.
In the world of boxing, it has become increasing rare for two equal fighters to come together and a clear favourite will normally hold a shorter price with the bookies. In some exceptional cases true equals do face each other, contests such as Frampton Quigg and Froch Groves often prove difficult for the bookies to price. The result of these contest are always extremely hard to call, but often shape up to be the most memorable battles inside the ring.
This weekend Terrance Crawford (28-0) takes on Viktor Postol (28-0) in what could be one of the closest and best fights of the entire year. With the bookies taking Terrence Crawford's side as favourite the price of a Viktor Postol win looks too good to ignore.
Crawford (28-0) is the current holder of the WBO light welter weight title and an exceptionally technical fighter who is widely recognised as one of the few fighters in professional boxing able to switch hit between southpaw and orthodox stances. Crawford is a classic counter puncher and dominates fighters once they make the mistake of throwing power shots. This combination of power and tactics have meant Crawford has ended 20 of his 28 fights by knock out.
Viktor Postol (28-0) is the current holder of the WBC light welterweight title and carries some huge threats to Crawford's style of boxing. Less concerned with his knockout ratio, Postol makes the most of his effective jab and with over a three-inch advantage on Crawford, Postol could turn the fight into a range battle that Crawford cannot win. With Crawford's heavy reliance on counter punching, he could look very average this Sunday as Viktor Postol holds him off for his first career defeat. Postol had a similar reach advantage over Lucas Matthysse in October and held him at range for 10 rounds before knocking him out. Postol's effective Jab and considered approach has earnt him 12 knock out wins from his 28 professional fights.
In one of the most exciting match ups of the boxing calendar the price on a Viktor Postol victory suggest the bookies consider him a rank outsider. In boxing circles Postol's style of fighting is feared as a real danger, especially to the shorter and more explosive Crawford. Despite most fans and the bookies backing Crawford for a knock out win, its more than possible that Postol will hold his opponent at range and walk away both WBC and WBO titles. With such a valuable price on Viktor Postol to win, this could be one of the best bets of the weekend as two equal forces of boxing meet this Sunday.
Postol - 1pt @ 9/2