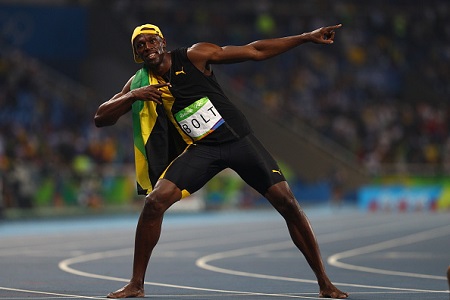 After Usain Bolt won the 100m title last night he appears to be a shoe-in for the 200m gold, with his odds falling from 2/5 to 1/16. One punter is so sure he'll win that they put £4000 on the inevitable outcome.
Usain Bolt - 1pt @ 1/12
The second biggest bet of the day is at the racing at Roscommon. The 1750 sees the 8/11 favourite Sweet Sounds run in the 1750 race and one punter has put £800 on the 2 year old filly to do the business.
Sweet Sounds - 1pt @ 8/11
Our third biggest bet comes from the race immediately prior to the one above at Roscommon, in the 17:30 race at Windsor. Slightly less fancied, Sun Angel has been backed at odds of 11/4 to the tune of £500. Sun Angel will need to beat favourite Smokey Lane (11/10).
Sun Angel - 1pt @ 11/4
Staying in Windsor, the 5/6 favourite in the 19:00 race, Materialistic, has been backed with £420 by one customer. There's now only four runners in that race and Materialistic is strongly fancied.
Materialistic - 1pt @ 5/6
The final bet of the five involves the Championship match between Newcastle and Reading. One punter believes that Newcastle are finally going to get their season going by beating Reading on Wednesday night, with £400 put on them to win.
Newcastle - 1pt @ 8/11