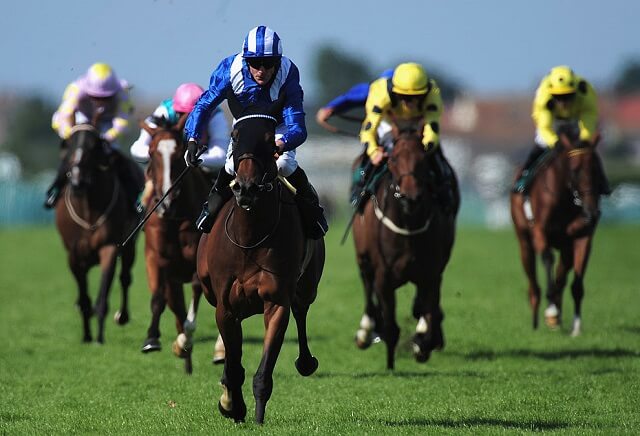 The biggest bet of the day is in Yarmouth's opening contest at 14:15. We've got one punter who has placed £2,400 on Via Serendipity to win. The two-year-old has Jim Crowley riding him and, as he closes in on the Flat Jockeys' Championship, he'll be hoping to extend his lead over Silvestre De Sousa with an early victory this afternoon. Via Serendipity is the hot favourite in this race at 8/13.
Via Serendipity - 1pt @ 8/13
The second biggest bet of the day is also at Yarmouth, in the third race at 15:25. We've got another punter who thinks they got another banker and we've seen £800 placed on So Mi Dar to win. John Gosden's filly is 3-3 so far and is a 5/4 chance to maintain her unbeaten run.
So Mi Dar - 1pt @ 5/4
In Third, we've had one punter bet £600 on Donald Trump to win the US Presidential Election 2016. Trump to win the election is currently our most popular bet on site and with Hillary Clinton falling ill recently, the chances of Trump winning is becoming more of a reality as we approach 8th November. He is now no bigger than 7/4 to win but, if you backed him two weeks ago, you could have got 5/2.
Donald Trump - 1pt @ 7/4
Next up is Manchester City to beat Borussia Monchengladbach. The game got postponed yesterday because of adverse weather conditions but it has been rescheduled for tonight. Pep Guardiola will be hoping to start the campaign with a win in Germany and we've seen a bet of £500 on City to win at 2/5 placed in the early hours this morning.
Manchester City - 1pt @ 2/5
Our final bet of the day comes in Kelso's third race (17:25). At 2/1 Dalaman is the clear favourite despite finishing seventh of eight last time. One punter is convinced that he will bounce back to winning ways this evening and has placed a £357 bet accordingly.
Dalaman - 1pt @ 2/1