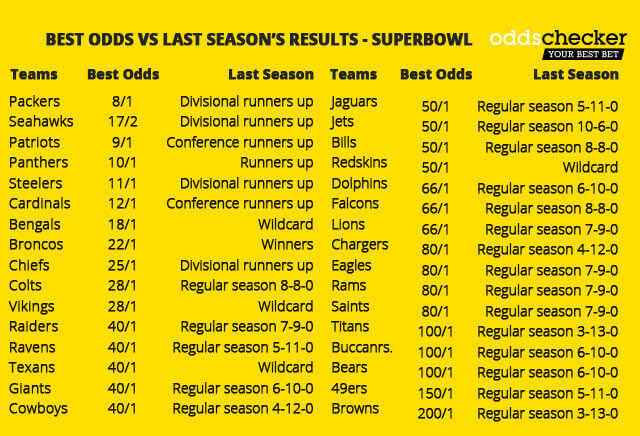 It only seems like a couple of months ago we were watching the out-going Peyton Manning and his team, Denver Broncos, win Super Bowl 50 against the Carolina Panthers in February. Here we are though, on the verge of another NFL season, with 2017's prize being Super Bowl LI.
After the retirement of Manning, the Broncos are not very well favoured by the bookies, priced at 22/1 and the eigth favourites to retain the super Bowl. Having lost out in negotiations to keep fourth year backup Brock Osweiler, the Broncos go into the season with Trevor Siemian as their starting quarterback, having never thrown an NFL yard in his career.
The Green Bay Packers start the season as slight favourites for the Super Bowl at 8/1, having just missed out on the conference match of last season, going down in overtime to the Arizona Cardinals in the NFC North Divisional round. The Packers have been a highly rated developing team for a couple of years now and will be hoping the arrival of tight end Jared Cook can take their offense to the next level.
Claim NowUp to 50% bonus on US sports Accas!
The Cincinnati Bengals had a very good year in 2015, building on their regular season success in recent years. Where they might struggle is in the play-offs, with the team not winning in the post-season since 1990. It's generally considered that the Bengals have done very well from their draft picks and have managed to keep their key players from last season. They could be a dark horse in the latter stages, at 18/1.
A team that uncharacteristically didn't do well last time out were the Indianapolis Colts. They missed out on the play-offs by posting a record of 8-8-0 and couldn't achieve the consistency that they've been know for in the Andrew Luck era. Touted as a possible future hall-of-famer, he will be expected to lead the team once again. They are rated the best team that didn't make the play-offs last season at 28/1 but with a quiet off-season behind them they would be doing well to go further than the divisional round.