Thanks to a history that stretches to 1926, Coral is now one of the leading bookmakers in Europe when it comes to football betting. Indeed, when you download the Coral iPhone app you'll find a wealth of wagers, bonuses and jackpot games all designed to make the beautiful game that much more attractive.
However, if football isn't your thing, then fear not because Coral's sportsbook also boasts a wealth of features that give you direct access to the latest news, stats and betting opportunities from all areas of the sporting world, including horse racing, MMA, tennis and even politics.
Best Bets: Breaking Down Coral Sports
Although one of the slightly busier interfaces, Coral Sports is still able to cram a wealth of information into a relatively small amount of space without it looking too cramped. In fact, one of the things that seems to work in the site's favour is the use of colour to separate its various elements.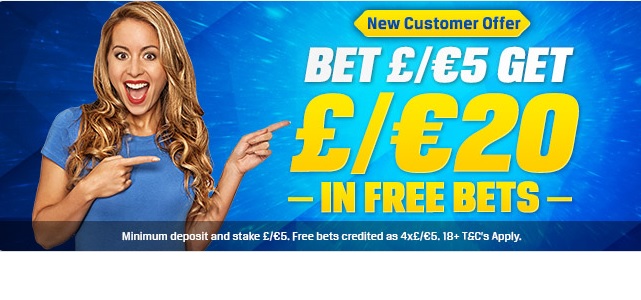 The Interface
As stated, Coral Sports isn't the easiest interface to read on first inspection. Although far from illegible, the amount of information stuffed onto the homepage is slightly more than some other operators and may, therefore, serve to be somewhat off putting during an initial visit.
Fortunately, however, this feeling soon dissipates as you discover the method to the software designers' madness. Using contrasting blue and green panels, users are first shown the raft of internal options via a top toolbar. Acting as an overview to the site as a whole, this toolbar contains quick links to live streams and scores, results, stats and betting news. Essentially, if there's anything you need to know about the latest results and fixtures, this toolbar is where to find it.
Once you've filled yourself up on stats and news, two sidebars on the left-hand side of the page provide quick links to all of Coral Sports' betting options. Listed in the first box are the day's hot picks (often categorised by sport or TV coverage) and in the second is a section entitled "My Coral". This sidebar allows users to add and remove up to six of their favourite sports, which means they can have instant access to the latest odds and offers within a single click.
Beyond these sidebars sits the "A-Z" tab. Listing all the available betting markets, this box contains main headings that open up into submenus which then push users towards the main page's centre console. It's in this section that all the action really happens. From live stats constantly shifting to future markets outlining the best odds of the day, this section allows punters to get a complete overview of an event's market and then place a bet with a single click.
Once all the drama is over, the only thing left for customers to do is review their bet slip on the right-hand side of the page, click confirm and wait for their fate to be determined.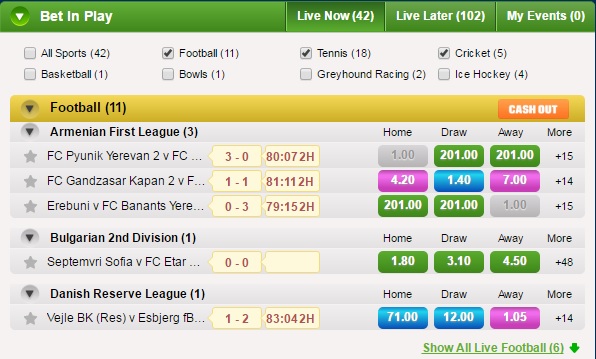 The Sports Betting Menu
As with all major online sportsbooks, Coral offers a range of in-play and futures betting markets on all manner of options. From standard offerings such as football, horse racing and golf, to less common options such as Gaelic football and virtual sports, it's possible to ante-up on virtually any proposition you wish courtesy of Coral Sports.
Of course, for many punters the in-play system is the most attractive as it often offers the best odds and most scope for making a profit, which is why Coral Sports has made it the main feature of its interface. Focusing on the day's major events, the in-play betting console automatically updates itself to show the latest stats and even offers an accompanying live stream to help punters keep in touch with the action.
The Tech Wizardry
In online sports betting, mobile apps have become a "must have" product in recent years and without a slick platform, operators often fall by the wayside. Fortunately, Coral Sports has put together a mobile interface that abides by the one rule that governs all apps "efficiency". Cramming a slew of data and bets into a single platform isn't an easy task, but thanks to some nifty software innovations Coral Sports has made it possible for you to view all the latest betting opportunities and take a punt all within a few swipes of your screen.
In fact, not only can you interact with in-play and future markets, but you can process your payments through an inbuilt gaming wallet. Unlike some operators that force you to make deposits and withdrawals using your desktop account, Coral Sports has an integrated banking feature that allows you to take full control of your finances using your iOS or Android device.
Indeed, on top of the usual banking suspects such Visa and MasterCard, you can fund your account using e-Wallets such as Moneybookers, Neteller, Click2Pay and WebMoney.
Added Extra: Coral Sports Bonuses and Bargains
All new customers at Coral Sports have the option of banking one of two welcome offers. Usually operating on a seasonal and fixed basis, one offer will move with the times while the other remains as constant.
For those who don't want to be governed by the latest "hot promo", Coral Sports offers a £20 free bet to all new customers who place a £5 bet for the first time. This cash is only available if you lose your initial bet, which essentially means this is a no lose offer. If you stake £5 and win, you receive the returns for that bet. If you lose, Coral Sports will give you £20 in the form of a free bet to cover your losses.
If you're someone who likes to wait for a major sporting event before anteing up, then Coral Sports often runs a secondary welcome offer based on the event of the moment. For example, during the Royal Ascot racing festival it's usually the case that Coral Sports will offer new customers an enhanced odds deal or a free bet on a specific horse. For some this deal will be unappealing as it's too specific for their needs.
However, if you're someone who has a certain sporting interest, then taking advantage of these deals can pay off handsomely in the long run.
View from the Betting Floor
Coral Sports is certainly a well-stocked betting platform. Although this can sometimes make the interface look somewhat cramped, the overall result is a comprehensive sports betting experience that's suitable for punters of all skill levels.
From live streams and commentary to in-play betting and future markets, Coral Sports has everything a canny customer needs to stay in touch with the latest odds, news and updates. Indeed, the name of the game in the sports betting world is staying on top of the action and inside Coral's platform you're given every opportunity to do this.
Coral Sports' Highlights:
Live streams of major sporting events.
Expert commentary and daily news updates.
In-play betting and future markets.
Customisable interface providing quick links to your favourite sports.
Mobile app complete with one-touch betting and integrated deposits and withdrawals.
To take advantage of Coral Sports' latest deals, make sure you follow our registration link, input your details and create your first account today.
| | |
| --- | --- |
| Deposit Required | Yes |
| Minimum Stake | £5 |
| Offer Value | £20 |