From humble beginnings as Northern Racing, bet365 Sports has since evolved into a betting behemoth generating millions in monthly revenue and, importantly, just as many winners. Owned and operated by a private firm headed by the Coates family, bet365 Sports now serves more than 14 million customers in 200 countries across the world.
These corporate credentials make those inside the bet365 boardroom winners in a general sense, but they also mean something for the sports betting community. By having the infrastructure and capital to sustain a workforce of more than 2,000 staff, it also means that the bet365 Sportsbook is able to offer more wagers, more bonuses and more deals for both new and existing punters.
Like anything in life, reputation is everything and when you ante-up in the online sports betting world you want to know that the vendor taking your money is credible. bet365 Sports has honed its reputation since 2000 and, today, stands as one of the leading online bookmakers in the world.
Best Bets: Breaking Down bet365 Sports
Like all modern Internet sportsbooks, bet365 now offers more than a simple desktop interface. Keeping with the times and trends, the operator's betting platform is now stretched out across a range of mediums which all boast the very latest in virtual betting technology.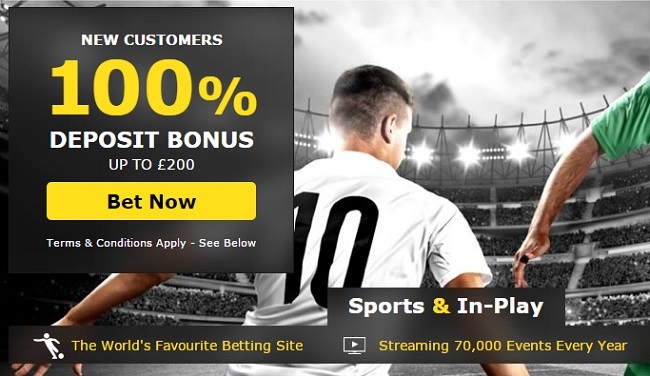 The Interface
From a visual standpoint, bet365 Sports welcomes you into its virtual platform with a homepage outlining the top bets of the day. Designed to be a dynamic interface that's constantly streaming offers, odds and updates, the homepage gives you a perfect overview of the site's wealth of wagers. In fact, such is the diversity and depth of betting on bet365, that the designers have opted to list the available sports on the left-hand side of the page.
A simple click on any of the options will switch the homepage to your desired sport and outline the latest bets, which can then be further sorted by event, participant or contest. To further reduce the clutter, bet365 Sports works as a dropdown system. That means any option you choose can be displayed or hidden with a single click, something that makes the process of finding the best odds a lot easier.
Once you've found your sport on the left-hand side of the screen and have picked your options in the middle of it, the final port of call is the right-hand side of the screen. In this column you'll find the betting slip, which contains all your odds, returns and decision button. It's also on this side of the page that you can make a deposit if necessary and check out all the bets you've made.
Overall, this movement from left to right not only fits perfectly with our natural inclination to read pages in this way, but it makes everything less chaotic. bet365's betting options are extremely deep and on any given day you'll find hundreds of options to choose from, which is why organisation is paramount. Ensuring that everyone can see everything that's going on makes the interface both user-friendly and profitable.
The Sports Betting Menu
In terms of betting options, bet365 offers up a veritable smorgasbord of treats for punters of all persuasions. Regardless of whether you have a hankering for handball, a taste for tennis or love the lotto, bet365 has something to satisfy every palate.
As you'd expect, the industry favourites, such as football, golf, horse racing and tennis, are all in place, as are a number of exotic options. Because bet365 Sports is able to employ a large team of statisticians, it means it can offer odds on virtually any activity in the world. Indeed, as well as traditional sports, the operator also runs markets for e-sports, poker, politics and TV. Essentially, if there's a potential winner or loser, bet365 gives you the ability to speculate on it.
The Tech Wizardry
In order to stand out in the modern online sports betting market, a company needs to employ the latest gadgets. Simply hosting a collection of odds and options inside a desktop portal is simply not enough to pique the interest of the canny sports bettor in the present climate, which is why bet365 has embraced as much tech wizardry as possible.
Headlining the software package is an advanced in-play betting system. Giving players the ability to speculate on a range of events currently in action, the system not only provides the latest odds, but stats from each encounter as well as a computerised representation of the action. Summarising recent events and offering some form of analysis not only gives you a better idea of the event's flow, but how the action may play out. From a betting standpoint, this is fantastic as it makes the process of picking a winner markedly easier.
In line with the live betting widget, the bet365 live stream also gives sports fans a chance to watch their favourite competitors without having to leave the site. Available to all new members who have placed a bet, this service offers hundreds of live streams every week (more than 60,000 a year) for sports as diverse as football, badminton, tennis and horse racing.
The final string to bet365's tech bow is its mobile betting platforms. Working with all the major mobile software providers, bet365 has fully optimised its interface to work on all Apple, Android, Windows and Blackberry devices. This not only means that you can ante-up on the move, but you can fund your account, make a withdrawal and even watch live sport streams via your phone or tablet.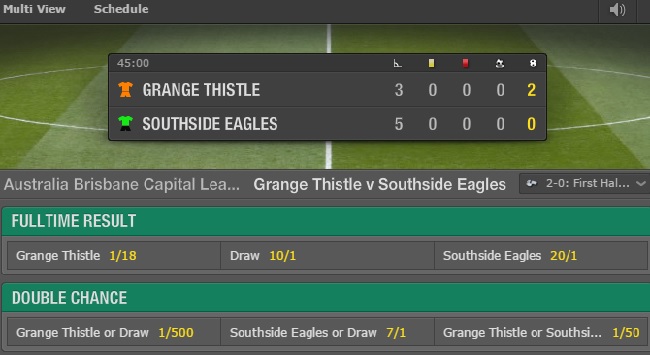 Added Extra: bet365 Bonuses and Bargains
No online sports betting review would be complete without a rundown of the gratis cash you can bank when you patronise a site. As stated at the start of this overview, bet365 is one of the largest sportsbooks in the world and that means it has enough liquid assets to reward each of its customers handsomely.
Acting as the lure that hooks prospective punters is a welcome bonus worth up to £200. To grab this cash, a new player must create their first account and make a deposit of at least £10. Doing this will initiate the 100% multiplier, which means any user who deposits up to £200 will be matched.
After reeling you in, bet365 then continues to share its wealth with customers by offering up a continual string of betting bonus, cash back offers and reload rewards. Each of these deals is designed to reward loyalty and give aspiring sports bettors a lot more bang for their buck (or Great British Pounds as the case may be).
Any sports betting offer you find on bet365 is open to anyone with an active real money account and the only stipulation you need to be aware of is that nothing ever comes entirely for free. This means, if you want that free bet or cash back deal, you'll need to place at least one small bet before you can receive your reward.
View from the Betting Floor
Overall, when it comes to online sports betting, bet365 is without doubt an industry leader. By offering an access all areas platform, customers not only have the ability to bet on their favourite sports, but keep up to date with all the latest news, odds and action without having to leave the site.
To give you a final insight into the site and leave you with something to think about, here's a rundown of bet365's best bits.
Simple left-to-right interface.
Betting options on more than 40 sports and in 15 languages.
In-play betting and 60,000+ live streams every year.
Place transactions using: Visa, MasterCard, Neteller, Skrill, Ukash, PayPal, Bank Transfer and more.
Best odds guaranteed and thousands of pounds in bonuses every month.
To start your bet365 betting adventure today, follow our dedicated download link.
| | |
| --- | --- |
| Deposit Required | Yes |
| Minimum Stake | £5 |
| Offer Value | £200 |