Ladbrokes Free Bet & Review
Another UK bookmaker that joined the online gaming bandwagon back in early 2000, Ladbrokes is now established as an industry leader which is not surprising given that the company has been offering bets since 1886. With a base in the UK and an annual income of over £1 billion, Ladbrokes has used its geographical location and financial might to become a major force in three online gaming markets: casino, poker and sports betting.
However, while the company's casino and poker platforms are well-respected, their reputation pales in comparison to the sports betting axis. Thanks to an array of options, including football, horse racing, boxing and tennis betting, and a long-standing reputation within the gambling community, Ladbrokes Sports has become the virtual home for a number of professional punters. In fact, such is the popularity of Ladbrokes Sports that it's ranked within the UK's top 250 websites, according Alexa's traffic rankings.
Best Bets: Breaking Down Ladbrokes Sports
Through a combination of experience, diversity and financial strength, Ladbrokes Sports has been able to craft a platform that's as accessible for novices as it is seasoned bettors. In line with its peers, Ladbrokes Sports has a number of features that will be familiar to those with experience in the industry. However, that doesn't mean it's a copycat site. In fact, Ladbrokes Sports has a number of unique features that help set it apart from the crowd.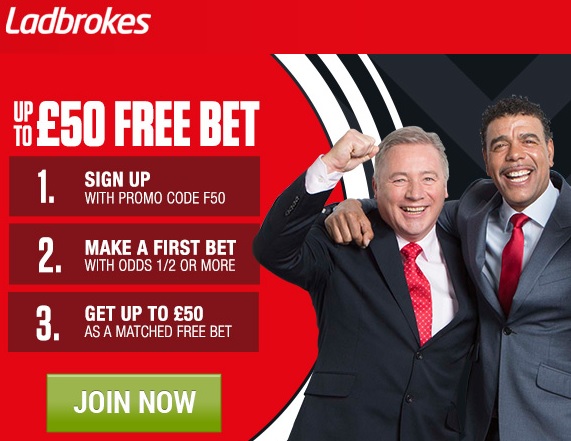 The Interface
Similar to other well-established online sportsbooks, Ladbrokes Sports has broken down its platform into three distinct areas: "sports", "in-play" and "virtual sports".
Instead of merging the trio of betting options and placing them into a single platform, the designers have sectioned them out in order to give each genre as much scope as possible. For some users this may seem like an unnecessary distinction to make. However, the partition is actually one that works well as it makes it possible for more features to be added to each page.
To give you an insight into the beauty of these partitions, here's a look at each section in detail:
Sports: This is the main betting hub inside Ladbrokes and contains every available market. Dominating the centre of the page are two sections outlining the latest news headlines of the days as well as the forthcoming fixtures. By giving themselves the opportunity to fit more elements into a single page, the designers have made it possible for users to read the latest tips and updates without having to navigate away from the betting board. For experienced punters this a great resource to have because time equals money in the betting world and the quicker you can jump on a hot tip, the more money you stand to make.
In-Play: The main feature and, therefore, the most useful feature of the in-play betting page is the running match report. Featuring a countdown timer, scoreboard and "action-metre", the panel is a great way for users to keep track of the latest action and, more importantly, refine their bets in order to increase their chances of success.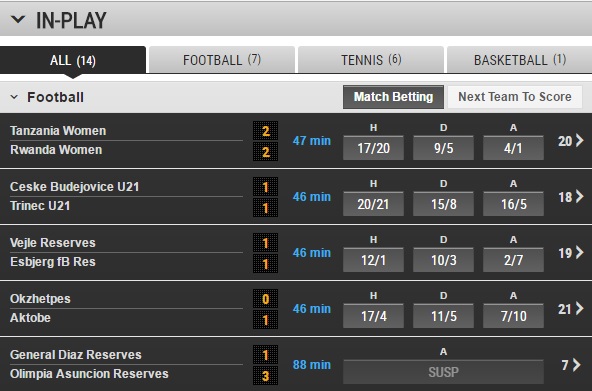 Virtual Sports: Listed under the heading "virtuals" and situated a few headings away from its sports betting cousins, the virtual sports tab allows punters to bet on a variety of virtual sports. All computerised and controlled by a random outcome generator, the betting options are a great way to ante-up at times when traditional sports don't often run. Acting as the hub for this page is an action window containing details of the next event as well as a virtual video complete with colour commentator.
The Sports Betting Menu
One of the most attractive aspects of Ladbrokes Sports is its betting limits. Regardless of whether you want to ante-up on football, horse racing or something more exotic such as MMA or speedway, Ladbrokes allows you to do some from as little £0.10. By giving punters the option to ante-up for such small stakes, it makes Ladbrokes a much more accessible platform for everyone. Indeed, unlike some sites that insist on minimum bets of £1+, Ladbrokes is literally open to anyone (providing they are over 18).
To complement this desire to serve as many customers as possible, Ladbrokes is also available in 21 languages, including English, Spanish, French, German, Turkish, Swedish and Greek. Adopting this polyglottal approach is yet another reason why Ladbrokes is now able to attract the full demographic of punters to its platform.
The Tech Wizardry
Completing Ladbrokes impressive selection of software, the designers have spent time perfecting a dedicated mobile betting app that's capable of taking all manner of wagers, including in-play bets. As experienced punters will know, a major part of any successful sports betting strategy is timing and Ladbrokes' mobile app is designed to make your betting experience as smooth as possible. Indeed, by allowing punters to capitalise in-play bets while they are on the move, it helps to make the system more lucrative and, therefore, punters more profitable.
Added Extra: Betting Bonuses and Bargains
To augment its technical prowess, Ladbrokes offers a constant stream of betting bonuses and promotions. Aimed at both new and existing customers, those who ply their trade on the Ladbrokes platform can bank a bevy of free bets and cashback offers.
For all new customers, a £25 bet is handed out after you place your first wager. Based on a match basis, the system basically gives you a free bet up to a maximum of £25 based on your first stake. However, that's not all. Once you've scooped your welcome bonus, Ladbrokes continues to pile on the offers with a "my bonus" system. Designed to give you a special betting bonus every day of the week, the system ensures that everyone, regardless of their status, is given the most bang for their buck.
The final added extra that punters will appreciate is the Ladbrokes news and tipping service. Free for all registered members, the service dispenses the latest industry and team news, as well as advice from betting experts from around the world. For those who ante-up on a regular basis, this facility will prove immensely beneficial.
View from the Betting Floor
Whether you like to ante-up from the comfort of your own home or via your mobile device, Ladbrokes Sports is on hand to deliver an exceptional service 24/7. Thanks to an array of sports betting options, including physical sports and virtual events, Ladbrokes gives you the ability to speculate on everything and anything whenever you wish. Of course, given Ladbrokes' reputation in the industry this shouldn't come as much of a surprise. However, it's certainly worth pointing out again. Although there may be younger, shinier, looking kids on the betting block, few can match Ladbrokes Sports when it comes to offering a complete package that's great for both novices and professional punters.
Ladbrokes Sports' Highlight:
£25 free bet for all new customers.
Live and in-play betting.
Betting on virtual sports 24/7.
Easy to use desktop and mobile interfaces.
Low betting limits.
If you'd like to join one of the longest serving bookmakers in the world, then make sure you follow our dedicated sign-up link to claim your £25 free bet today.
| | |
| --- | --- |
| Deposit Required | Yes |
| Minimum Stake | £10 |
| Offer Value | £50 |