If you're looking for a well-connected sports betting portal that has almost as much mainstream coverage as it does daily wagers, then look no further than Sky Bet. This operator is fully immersed in the world of sport and it uses those links to create one of the most diverse platforms on the internet.
In fact, regardless of whether you're looking for bets, live coverage or expert betting tips, Sky Bet has everything you need to become a profitable punter.
Best Bets: Breaking Down Sky Bet
The first thing you naturally think of when you hear the brand name Sky is quality. Being one of the wealthiest media organisations in the world means the company has more than enough funds to create a betting site that's both well-constructed and efficient.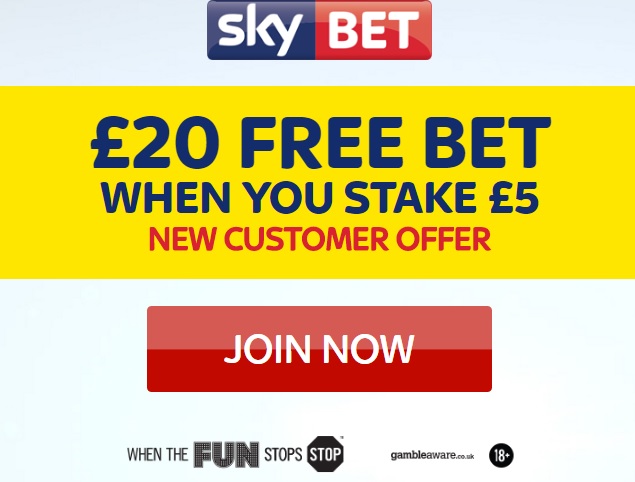 The Sky Bet Interface
The first thing you'll notice when you land on Sky Bet is the familiar blue and red logo at the top of the page. Mirroring the Sky Sports logo many fans of the industry have come to know and love over the years, this logo instantly reinforces the site's reputation as a quality product.
Below the main logo is the highlights console which not only flags up the best bets of the day, but gives customers a guide to the latest events being shown across Sky's selection of sports channels. This service, combined with the live streaming options found inside the site's internal pages, means you'll never be far away from the action.
One minor criticism of Sky Bet is that the homepage can look a little imposing to novice users. Because there is so much going on within the platform, the developers have been forced to cram a matrix of names onto a single page.
This strategy, while necessary, does make the site somewhat impenetrable on first inspection. Fortunately, however, a few minutes of clicking around and you'll soon be able to find what you're looking for.
The Sports Betting Menu
As any seasoned sports bettor knows, timing is crucial and can often make the difference between a small profit and a crushing loss. Due to the dynamic nature of the betting world, it's important to seize small edges when necessary. However, it's only possible to do this if the site in question is set up to take your bets.
Fortunately, Sky Bet has laid out its wares in a relatively ergonomic fashion. Although there may be a lot going on across the page as a whole, the two main betting widgets do make it possible for you to ante-up in an instant.
As a general guide, Sky Bet's markets are divided into two main categories on the home page: daily specials and ongoing fixtures.
At the top of the page, punters can gain access to a complete list of in-play betting options through a dynamic table. Situated in the centre of the homepage, this betting panel lists the "live bets" and can be filtered according to certain sports. This set up is great because it offers links to simple market propositions (such as selecting the winner) and allows you to place a bet with a single click of your mouse.
For those who like to seek out the best value bets of the day, the second panel on the homepage displays the latest odds for all the forthcoming fixtures. Broken down into specific sports, such as football and horse racing, the scrolling widget gives members direct access to bets taking place within the "next 24 hours" as well as "feature events".
This simple division between in-play betting and future betting is a nifty way to divide up the page and ensure everyone can find what they're looking for with the minimum of fuss.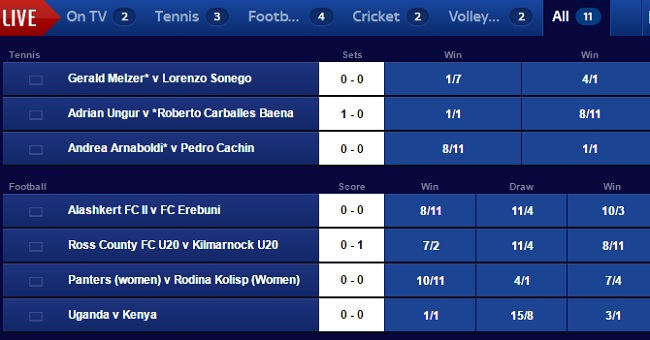 The Tech Wizardry
Aside from the latest live odds and forthcoming bets, Sky Bet incorporates a range of handy tools for aspiring punters. From a best odds guarantee on horse racing, to a form indicator and betting calculator, these aids are a fantastic way to boost your bottom-line.
In fact, for inexperienced members the betting calculator will be extremely helpful because it allows people to plug in some odds and a stake and find out the expected returns. This means novices can see if a potential bet is going to provide them with a worthwhile return.
For more experienced bettors, the racing form page provides a way to narrow down the market and see which horses are in form and which are not. Having access to this sort of information is great because it means you can seek out potential value, especially in the live market, and make much more informed betting decisions.
However, as handy as these features are, the latest innovation by Sky Bet is by far the best. Known as the Sky Bet Tracker, the app not only allows mobile users to place bets and track the latest action, but it gives them the ability to cash out their chips in-play via their mobile device.
Although this facility is becoming more common across the online sports betting industry, the way in which Sky Bet handles it is highly impressive. Built into a dedicated app, the function requires just a few swipes to spring into action. Indeed, if you're someone who errs on the side of pessimism when you're betting, then the cash out feature will prove extremely useful.
While you may never realise the maximum value of your bets if you use it too often, it's an extremely handy tool to have if you ever get the "feeling" something isn't right.
Added Extra: Casino Bonuses and Bargains
In terms of generosity, Sky Bet has one of the largest welcome bonuses in the online sports betting community. To get the bonus ball rolling, all new customers are handed a £20 free bet once they've made a £5 win bet. Following this bonus, Sky Bet continually tops up punters' accounts with a variety of exclusive deals and promos.
However, while enhanced odds, money back bets and no lose offers are all wonderful, the most impressive aspect of Sky Bet's bonus system is its cross promotions. Because the operator has interests in the casino and poker world, customers can often win a series of free bets when they meet certain gambling quotas. For example, any Sky Bet customer who loses on a major horse race can get 20% of their stake back up to a maximum of £25 in the form of a free casino bet. Although these offers are subject to change and often limited to a certain number of goes, this ability to offer deals that cross betting borders is one of Sky Bet's biggest strengths.
View from the Casino Floor
Being linked to one of the largest sports media outlets in the world certainly has its advantages both for Sky Bet as a company and for you as a customer. Being a trusted brand means you're able to utilise a range of deposit options (Visa, MasterCard, Skrill, Neteller, PayPal and Maestro) and you'll never have any issue with receiving your winnings.
Moreover, because Sky as a brand has a reputation to uphold, it's willing to invest a lot of money in its online products and that's resulted in a platform that boasts a wealth of betting options, money-making aids and bonuses. Young people are often told they should reach for the sky if they want to go far in life and that's something we'd recommend as well if you want to go far in the betting world.
Sky Bet's Highlights:
£20 free bet + weekly cash rewards.
Best odds guarantee on horse racing.
Range of betting tools.
In-play betting and exotic wagers.
Mobile app with odds tracker and cash out feature.
To become a Sky Bet customer and send your bankroll skywards, follow our registration link and create your first account today.
| | |
| --- | --- |
| Deposit Required | Yes |
| Minimum Stake | £5 |
| Offer Value | £20 |